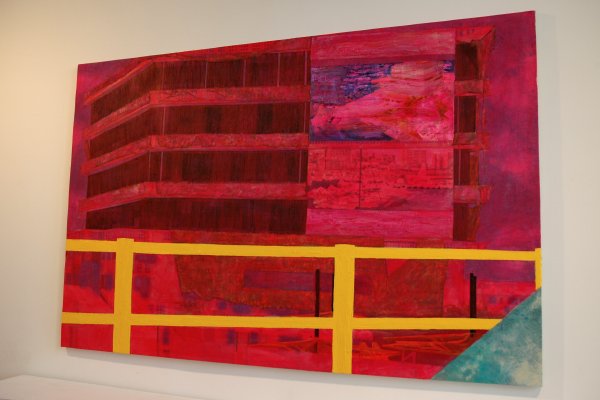 Xavier Deshoulieres Saint Georges 2006 oil on canvas 51" x 77" [installation view]


[detail]
Virgil de Voldere is showing new work by gallery artist Xavier Deshoulieres. This French painter working in Cologne has developed a stunning technique which may well be unique to him. Deshoulieres paints on both sides of the canvas with his hands and his tools. Ultimately however his subjects and the images with which he chooses to represent them must also be credited for the work striking both the eye and the head of the observer.
These are, literally, painfully beautiful canvases.
"Saint Georges" describes the Beirut site of the February 2005 assassination of former Lebanese Prime Minister Rafik Hariri. The Saint Georges was a legendary hotel during the golden age of Lebanon prior to the 1970's civil war. Saint George was born in Beirut, according to Christian Lebanese myth. Obviously the dragons were not eliminated altogether.