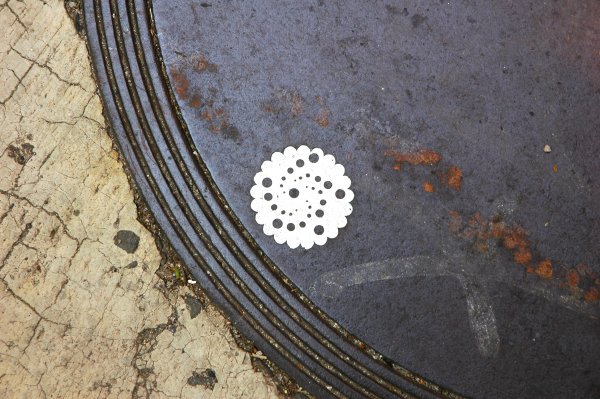 painting on manhole cover, most likely that of Reed Anderson [view of site-specific installation]
I didn't manage to get to Reed Anderson's show at Pierogi until this past weekend, so as much as I would like to I can't send anyone over to Brooklyn to see it now.
Especially since my own photographs came out very yellow, there's at least a small consolation in the fact that the gallery itself has a number of good images of the work shown [odd as it may seem, even now that's not always a given].
Judging from past experience, there should still be at least one of Anderson's works visible somewhere in the office area if you do stop by, but there is almost certainly one piece remaining outside. It's lying on the top of a manhole cover located just below and west of the building's stoop. When I descended the steps this past Saturday and spotted the tiny work I pointed out the silver medallion to several people sitting or standing around. It seemed to be a complete surprise to everyone, including at least one person connected with the gallery. It certainly looks like something Anderson would enjoy carrying off without announcing it to anybody.