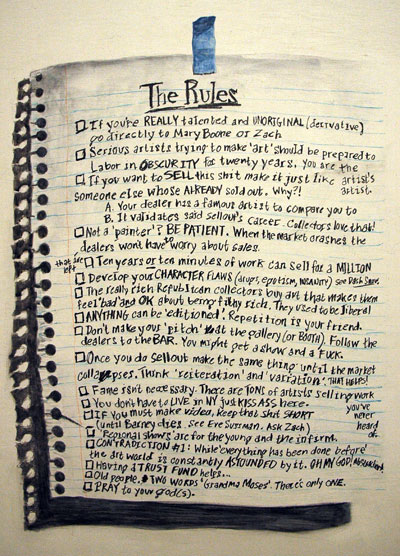 William Powhida The Rules 2007 graphite and gouache on panel 24" x 18" [large detail of installation]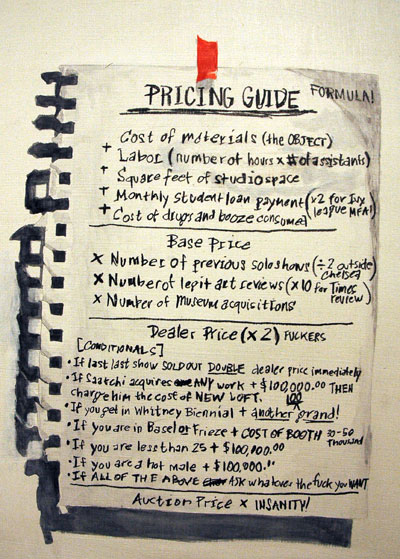 William Powhida Pricing Guide 2007 graphite and gouache on panel 14" x 11" [large detail of installation]
We missed all the fun of the opening while we were traveling, but this past Saturday Barry and I slipped into Schroeder Romero, to see William Powhida's awesome first solo show at the gallery, "This Is A Work Of Fiction......". It didn't disappoint our highest expectations, and I'm very happy to say it also didn't hurt one bit: We're both included in one of the pieces, with a sketch, a blurb and a footnote, but the work is "The New York Allies List", one of two large drawings illustrating people who occupy the artist's world. The other, "The New York Enemies List", is pretty scary, and not just because it includes Trump and Giuliani.
I loved Powhida's rich gouache representations of his fantasy world as a hugely-successful art star, but his texts, whether accompanying the figures or standing alone as memos, are even more intense.
Disclosure: William was asked by the NURTUREart people to introduce us at their June 4 benefit, and we couldn't be more excited about their choice.
The gallery introduces the artist's letter/press proclamation with this admission:
Schroeder Romero is terrified to present This Is A Work Of Fiction...... a solo exhibition by William Powhida, under professional obligation and personal duress.
And here is an excerpt of what follows, from the artist himself:
BUT, all that doesn't really matter. The work isn't that important. I could, say, pack my shit into a can, take nude photos of my beautiful friends at parties, or make BIG EXPRESSIONISTIC paintings of monsters, but it wouldn't really matter. WHAT matters is that someone says "Did you see that shit on 27th Street?! He called Dash a jerk-off'." It's REALLY important that Shamim and Roberta drop by. I mean, otherwise what's the point? I can't keep sitting around my studio getting drunk and yelling at my assistants forever, can I? I need some affirmation of my BRILLIANCE like a Times review or a Biennial nod. While I have probably just doomed myself to insignificance by ASKING for those things, aren't they the very indicators of success?

I would like to ask you to participate in my impossible endeavor to scale the walls of my insignificant existence as an emerging (it's so pathetic sounding) artist. I know that WE (_Richard, you bastard_) don't make art to be rich and famous, but my hair is turning gray, I am getting OLD, and time is running out for me to experience GREATNESS. I mean, I'm not twenty-five anymore! I can feel the studio walls closing in around me, my assistants are giving me dirty looks, and collectors are trying to GUESS MY AGE!!! (I take no comfort in the fact that I too will eventually be recognized as a GENIUS. I mean we ALL will someday when we are dead)
The artist's real or mock fears, expressed at the end of his letter, about no one ever letting him do this again have almost certainly been dispelled by a success both artistic and monetary: One week into the show almost all of the work had been sold.