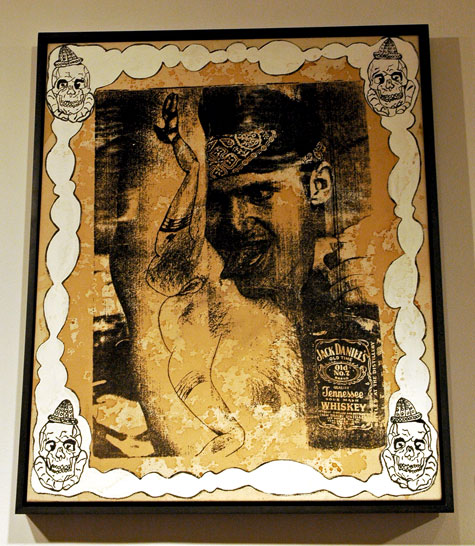 George Horner Skull 2006 acrylic, gesso, silkscreen ink and whiskey on canvas 35" x 29" [installation view]

Valaire Van Slick
Stop making eyes at me,
I'll stop making eyes at you
And what it is that surprises me
is that I don't really want you to
2006 acrylic, industrial enamel, clear-coat and glitter on canvas 30" x 40"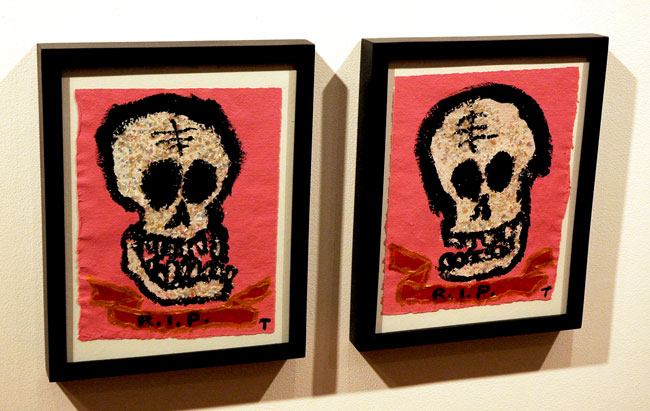 TABOO! Stephen Tashjian Skull #2 and Skull #1 each 2007 acrylic and iridescent glitter on handmade paper from India 12" x 9" [installation view]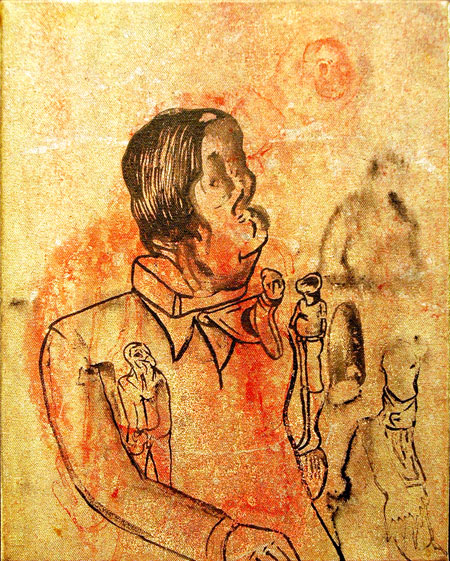 Tomas Lopez-Rocha La Flaca 2007 mixed media on canvas 14" x 11"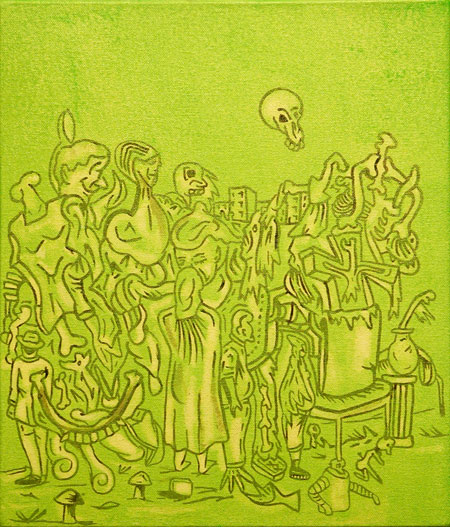 Tomas Lopez-Rocha Dia de Muertos 2007 mixed media on canvas 14" x 11"
Under normal circumstances things skull-like hold absolutely no fascination for me, but Dinter Fine Art's current show, "Death & Love in Modern Times", manages to totally transcend the dry calcium props which enliven its macabre theme. The press release suggests I may be in the minority when it comes to interest in the subject of skeletons, so I should thank a lot of people besides Ingrid Dinter, the curator, for the mounting of this exciting collection.
The intense, more-or-less salon-hung exhibition is assembled from work by an extraordinary company of artists:
Michael Byron, Billy Copley, David Dupuis, Dan Fischer, Rico Gatson, Tomoo Gokita, Leon Golub, George Horner, Peter Hujar, Daniel Johnston, Dan McCleary, Kelly McCormick, Ana Mendieta, Tomas Lopez Rocha James Romberger, Julie Ryan, Phil Sims, Aaron Sinift, TABBOO! Stephen Tashjian, Marguerite Van Cook, Valaire Van Slyck, Mike Walton, Andy Warhol and Rob Wynne