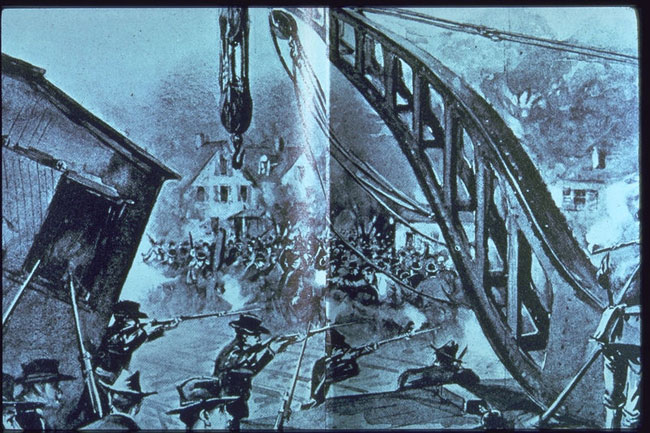 National Guardsmen firing into demonstrators during the 1894 Chicago Pullman strike* [contemporary Harpers Weekly drawing]
[Exactly five years ago today (I see now that it was almost to the minute) I did a post, "the real meaning of Labor Day". I think it's time to do it again. My own brief text was augmented with quotes from the site of Jim Lehrer's PBS show, NewsHour, a page which had appeared the year before. This year I've added an image.]
It's not the barbeque, and it's certainly not the traffic. It was born as an attempt to appease the working people of America. [Remember the Pullman strike in history class?] Unfortunately it seems to have worked too well.
The observance of Labor Day began over 100 years ago. Conceived by America's labor unions as a testament to their cause, the legislation sanctioning the holiday was shepherded through Congress amid labor unrest and signed by President Grover Cleveland as a reluctant election-year compromise.
Soon after, when the entire nation became thoroughly frightened by the bugbear of socialism and communism, the movement was de-radicalized. The real Left was gradually marginalized and almost totally eliminated from American culture and society. The workers' movement itself became middle class, before it acquired the material benefits and political power which that adjustment should have delivered. And there it languishes.
In 1898, Samuel Gompers, head of the American Federation of Labor, called it "the day for which the toilers in past centuries looked forward, when their rights and their wrongs would be discussed...that the workers of our day may not only lay down their tools of labor for a holiday, but upon which they may touch shoulders in marching phalanx and feel the stronger for it."

Almost a century since Gompers spoke those words, though, Labor Day is seen as the last long weekend of summer rather than a day for political organizing. In 1995, less than 15 percent of American workers belonged to unions, down from a high in the 1950's of nearly 50 percent, though nearly all have benefited from the victories of the Labor movement.
Happy Labor Day, but don't forget.
*
I haven't been able to find a really good compact summary of the strike anywhere on line, although there is this setting of the broader context in a discussion from Howard Zinn. I would definitely welcome any other suggestions. I can however offer information on some of the numbers involved in the physical conflict itself, quoted here from the Kansas Heritage Group:
The total forces of the strikebreakers both government and private were [against 100,000 strikers]: 1,936 federal troops, 4,000 national guardsmen, about 5,000 extra deputy marshals, 250 extra deputy sheriffs, and the 3,000 policemen in Chicago for a total of 14,186 strikebreakers. In addition to these figures there were also twelve people shot and killed, and 71 people who were arrested and sentenced on the federal indictment.
No picnic.
[image from Wikimedia Commons}