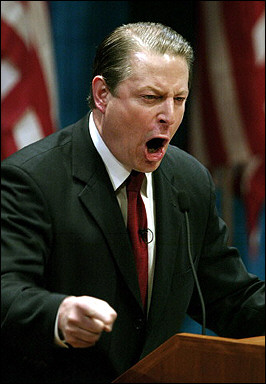 the once and future president
I'm not arguing he should be nominated and elected this time because he won the Nobel Peace Prize, but because winning the Nobel Peace Prize can make it happen.
Why Al Gore, and not anyone from within the current field of designed and positioned candidates? To begin, because I can't support much of what I'm hearing from any of the three current "frontrunners"; to continue, because I believe Gore says what he thinks, not what he thinks others think he should say; and to conclude, because he would be elected.
Although I can't know what was going on in his mind at the time, I realize that I might have to advance one doubt about Gore's reputation for plain speaking: Had the man we voted for once before* been candid and upright about the truth in November and December of 2000 the world would be a much better place today, and we would now be thinking about who should succeed a President Gore.
*
Although not "we", since as a New Yorker I could pull the handle for Nader without affecting the Electoral College votes.
ps: I'm also pretty happy with what Richardson is saying, I've always thought Kucinich had it right on just about everything, and Mike Gravel should be getting more of a hearing. I'm still really disturbed about the Democratic Party as it now exists, and while I don't know how or whether I could reconcile that with a Gore, Richardson, Kucinich or Gravel candidacy, it could be very exciting finding out.
[image from classicalvalues]