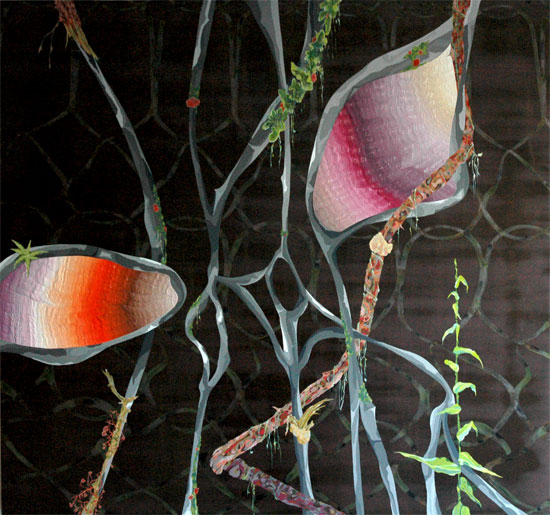 J. J. Garfinkel Myriad Quay 2007 acrylic and oil on panel 45" x 48"


[detail]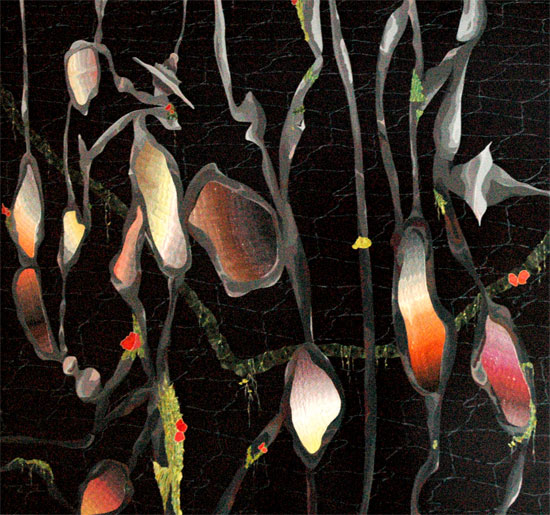 J. J. Garfinkel Scribble Terrace 2007 acrylic and oil on panel 45" x 48"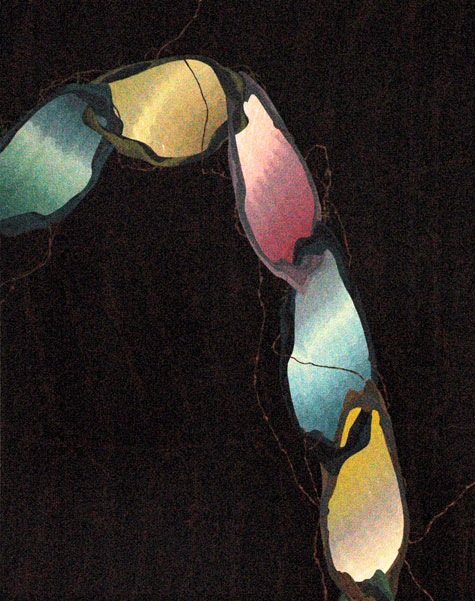 J. J. Garfinkel Clingman Rope 2006 acrylic and oil on panel 30" x 24"
Although it took a few minutes of walking about the space and talking to Martin, probably the sweetest gallery dog in New York, I eventually became so taken with this work that I found it very difficult to leave. That doesn't happen very often, no matter how much I like a show.
Nine paintings by J. J. Garfinkel are currently installed at Hogar Collection in "View Sheds" the artist's first solo show with the gallery. Every one of them is terrific, with a very strong presence. They're two-dimensional, except for some closely-outlined fields of wavy-textured brushwork, but the viewer sees - and feels - more than just a surface. The combination of the artist's elegant pallet of colors, both muted and dazzling, the variety of his surface finishes, and his layering of images in combinations as disciplined as they are organic suggests nine fantastic miniature jeweled landscapes inside three-dimensional illuminated dioramas.
Because the exotic, sophisticated beauty of the paintings can't be isolated from Garfinkel's skill in representing their material properties, nothing can replace the experience of standing in front of them, but I'm hoping that these images, especially with the inclusion of one detail shot, will help account for my excitement.