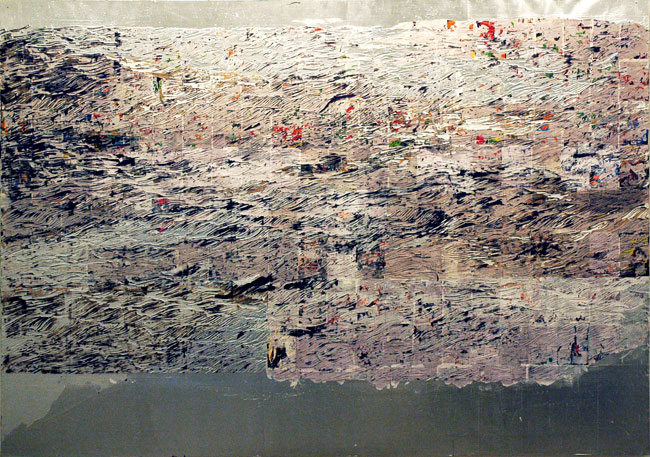 Mark Bradford Mississippi Gottdam mixed media collage on canvas 102" x 144"


[detail]
It took me a few minutes. I don't know, maybe I was already tired from an afternoon wandering between galleries in the wind and the cold on the edge of the North River. I also didn't remember who the artist was, that I had written about him before, and that his work had been one of my favorite things at the last Whitney Biennial (I like it when an artist changes, even if it often taxes a memory already straining to keep up with my passions). I also didn't know that two nights later, entirely by coincidence, I would be watching a recording at home of his segment of the Art: 21 series, "Art in the Twenty-First Century".
In any event, last Tuesday when I walked into Mark Bradford's show, "Nobody Jones", at Sikkema Jenkins, I first felt like, well . . . , like show me why these big canvases are special. Had I finally had enough of art-ing? I wasn't really into the work, even though when I was back at the front desk I found myself going back to check out the map-like features of at least one piece (I love maps). Now looking at it again it no longer seemed important what the lines were, or even whether they represented anything at all (they do). And when I rounded the corner and walked into Sikkema's west gallery, where "Mississippi Gottdam" was hanging all by itself, my jaw must have dropped. If it had been a spaceship hanging from the ceiling it couldn't have been more exciting. The big sculptural collage was breathtaking. I studied it for some time and then I turned back into the main gallery. All the other stuff now looked really awesome as well, and I was still thinking I knew little about the artist, or the process which produced these works.
Magic.

Thanks to Art: 21 and its visit with the brilliant and engaging Bradford, both inside and outside of his Los Angeles studio, I now remember everything, even my own 2006 post. The permanent-wave end papers and the bright Whitney paper collages. I had first seen his work at Lombard Freid back in 2001. It was a solo show called "I Don't Think You Ready For This Jelly". Lea Freid spoke to Barry and I at the gallery and helped us fall in love with the artist's work - for its beauty, its medium and its rootedness.
The image at the top can only hint at the brillance of the original, much of which floats on a silvery foundation. I thought Rudolf Stingel's shimmering Whitney installation of last fall was pretty magical, but right now I'm thinking about what it would look like with a hands-on color intervention from Bradford.