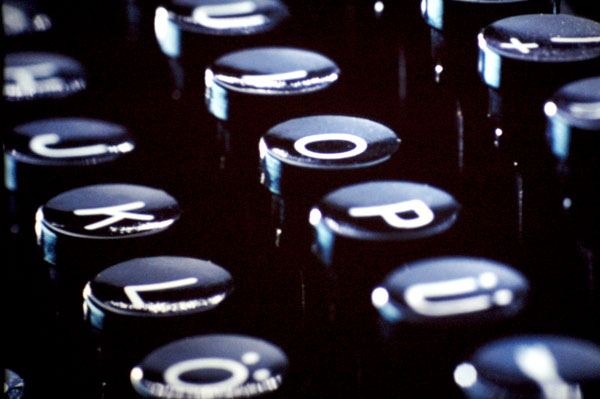 Rodney Graham Rheinmetall/Victoria 8 2003 installation: 35mm film (color, silent), Cinemeccanica Victoria 8 film projector [large detail of still from film image projected within installation]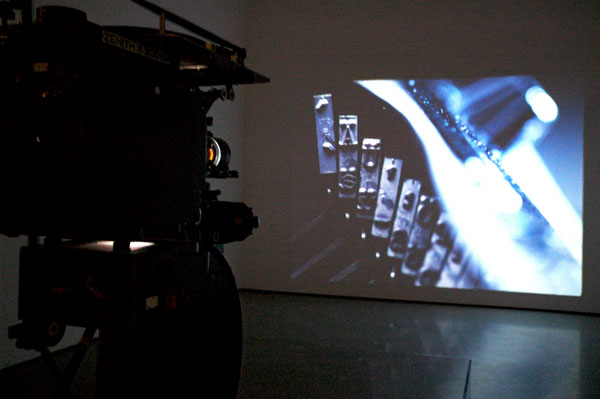 [large detail of installation]
Maybe it's partly my aspirations as both writer and photographer, since this extremely elegant work intersects both of those arts, but I was fascinated by this Rodney Graham piece when I wandered right into it the other day. It's part of the current contemporary galleries show at the Museum of Modern Art, "Multiplex: Directions in Art, 1970 to Now".
There was also the impact of the profound, endless "silence" produced by that huge projector's rapid click, clack, click, clack inside a darkened room.
The gallery label included this text:
This film depicts a 1930s German typewriter made by Rheinmetall that Graham found in a junk shop. "It was just this incredibly beautifully made, solidly designed typewriter. Not one key had ever been pressed on it," he has said. His filmed homage is projected with a 1961 Victoria 8 projector issued by the Italian company Cinemeccanica, a mechanical wonder that Graham has described as "very beautiful, kind of overly powerful." "It's these two objects confronting one another," the artist has said of the installation. "Two obsolete technologies facing off."