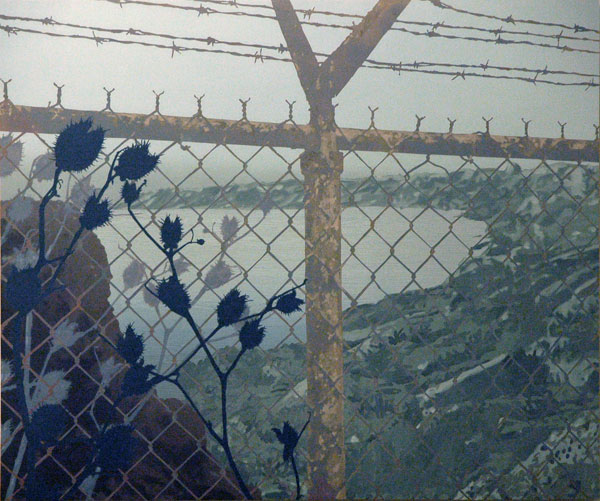 Saul Becker The Beginning of Every Story Seems Ridiculous at First 2008 oil on panel 29" x 35"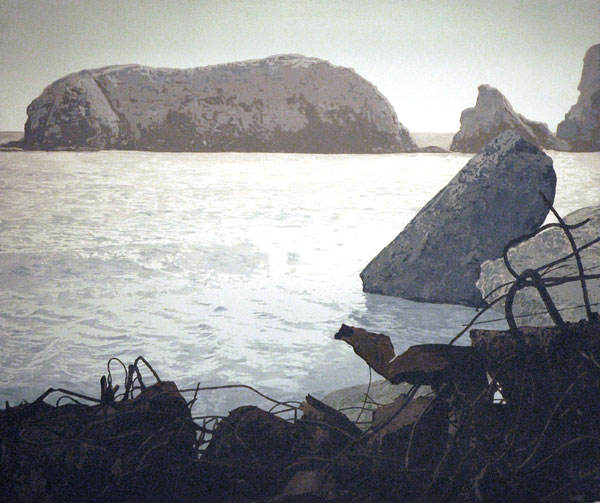 Saul Becker Tender in Every Joint 2008 oil on linen 29" x 35"
Although I'm now embarrassed to say I found them a bit underwhelming when I first saw them, the paintings of Saul Becker which Sean Horton showed at Volta very quickly managed to give themselves real presence. Maybe I was suspicious of the subdued earthy colors (my favorites) in these foggy landscapes, but my eyes quickly opened when I started to notice here and there oddly-natural elements of grafitti, industrial fencing and even more heavy-duty detritus. I then learned that the artist, currently represented with a solo show of large-scale ink and gouache drawings at the Lower East Side [L.E.S.] gallery which I have not yet seen, works just somewhat outside en plein air landscape practice. These scenes don't exist except in Becker's eye. The show's press release tells us, as a matter of fact, that the works, "best described as composite landscapes, combine fragments from different places and sources to create new, invented locations."