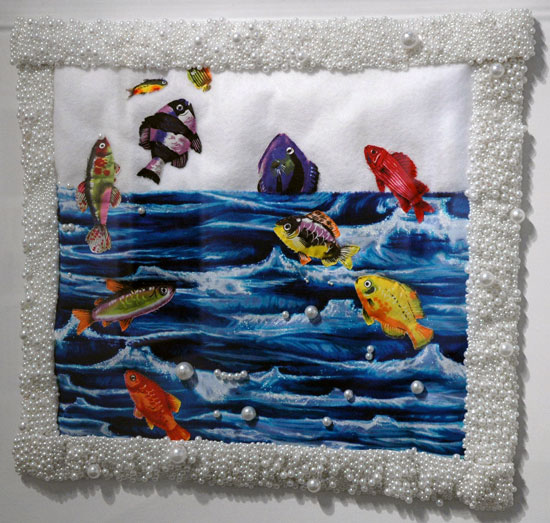 Sabyna Sterrett Flood 1979 faux pearls, fabric and thread 19.5" x 22" (25.5" x 28" in plexiglas box) [installation view]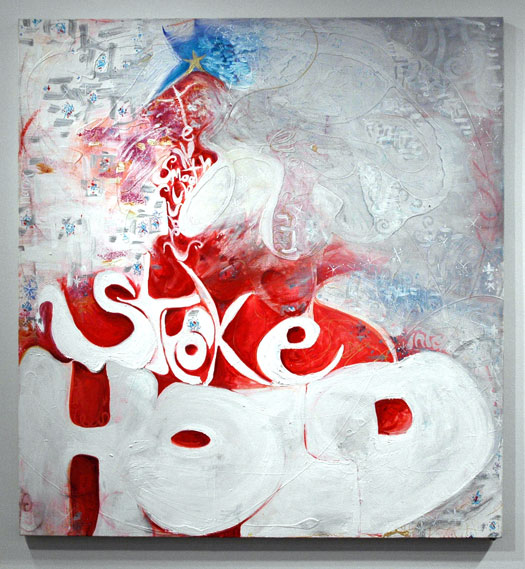 Suzanne McClelland Coming to a Head 2007 oil on linen 60" x 56" [installtion view]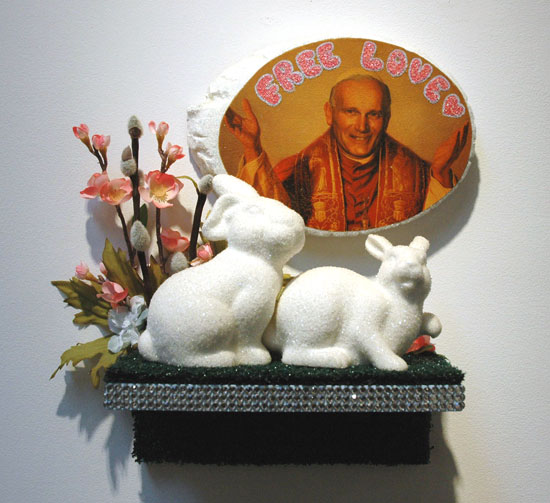 Lauren Gibbs Free Love 2006 ceramic, silk flowers, diamond dustwood, astroturf, acrylic, rhinestones 15" x 17" x 7" [installation view]
Cynthia Broan's show of feminist art, bearing one of the season's more delightfully ambiguous titles, "What F Word?", closed last Saturday, but some of the work included there (much, much more than what I'm showing here) deserves another shout.
I would say this is especially true because of its contrast (or harmony?) with a guy show (masculine art?) running concurrently just two streets south of her 29th Street space. [but more on that in the next post]
The work in the Cynthia Broan installation, which included, if I'm counting right, 33 artists or collaborators and twice as many pieces, spanned the last 45 years. I'd call that slice of time the years which will always have to be considered heavily touched by the 60's, even if that amazing decade's social innovations and political progressiveness has sadly been largely reversed. The arts thankfully somehow escaped that numbing and conservative fate which has ever been attached to an aging population.
It was wonderful to see firsthand so much revolutionary work from many years ago, but one of the most remarkable things about this show was the difficulty in dating the pieces without a scorecard. Sabyna Sterrett's pristine, plastic-boxed pillow sham could have been made yesterday, and some of the newest work, at least partly because it employed found or organic materials which already showed physical age, looked like it could have been around for decades. Moreover, since many of the issues and obstacles facing women artists today are little changed from 1962, it just wasn't that easy dating the work on the basis of its substance.
I left the gallery thinking I would like to have felt something more of the presence of the curator, the artist Carol Cole Levin, but the cast was certainly terrific. In alphabetical order they were: Ghada Amer & Reza Farkhondeh, Janet Biggs, Phyllis Bramson, Carol Cole, Patricia Cronin, Nancy Davidson, Lesley Dill, Diane Edison, Susan Paul Firestone, Dana Frankfort, Lauren Gibbes, Gina Gibson, Kate Gilmore, Nancy Grossman, Jane Hammond, Rajkamal Kahlon, Robin Kahn, Deborah Kass, Suzanne McClelland, Beverly McIver, Ulrike Mueller, Barbara Nessim, Shay Nowick, Brenda Oelbaum, Lesley Patterson-Marx, Elaine Reichek, Beatrice Schall, Rachel Selekman, Lowery Stokes Sims, Anita Steckel, Sabyna Sterrett, Jennifer Viola and May Wilson.