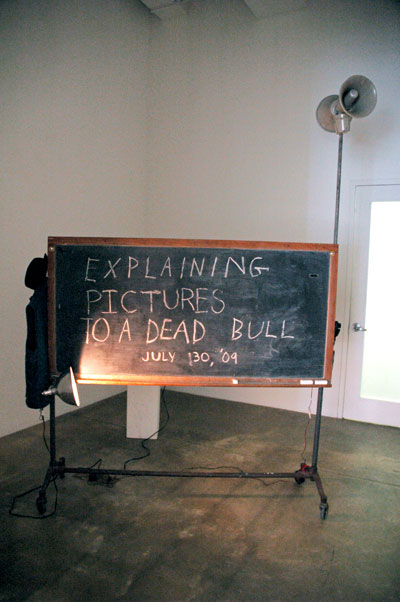 found-materials, constructivist-like BHQF "tribune", as installed during the gallery show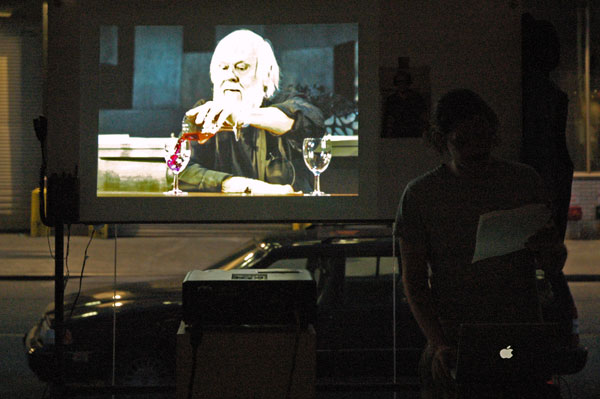 deliverance
Its title an homage to Josef Beuys, "Explaining pictures to a dead bull" rang the closing bell of a very shrewd and striking group show at Harris Lieberman* on July 30. It was a pedagogical reading, by members of The Bruce High Quality Foundation, a completely engrossing, serious and provocative essay on the past, present and future of visual art education. Its delivery in the darkened gallery was enlivened by the simultaneous projection of a rather puckish show of curated slide images which pleased the large, attentive crowd.
The Bruce described how something we could once approach simply as "art", has over the past half century become an almost monstrous conflation of art, the market and the academy - all with the enthusiastic support - and abetment - of its most conspicuous fans (the ones with the money). No remedies were proposed, but this time the questions, some of them already familiar, have been posed in the midst of a new economic and critical landscape, and by a very vital collective whose work has always dealt with these issues; maybe now there will be time for all of us to pursue some answers.
The complete text can be accessed here.
*
"No Bees, No Blueberries"; it was an ArtCat top pick