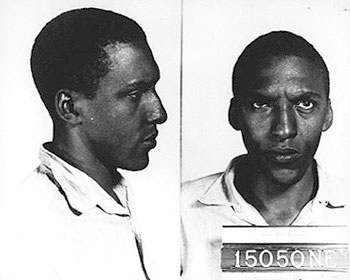 Bayard Rustin's 1953 mug shot*
The CEO of an Atlanta credit union, on a visit to New Jersey for his 30th high school reunion, has been shot and killed in a Newark park by an undercover policeman. The alleged sex-related incident ended in the senseless death of an unarmed man, DeFarra Gaymon, a successful businessman and a married father of four.
The official explanation, delivered by the acting Essex County prosecutor (that the officer, trying to arrest Gaymon for lewd behavior, had fired in self-defense), makes no sense, and even if the pieces could be fitted together they suggest a world I thought had disappeared decades ago: I remember what many urban parks looked like after dark half a century back, I know that the police played them for sport, and I know the combination could destroy lives, but it's now 2010. This Essex County park is located in a state which by most accounts ranks at the very top in the nation in laws extending equality and civil rights to both the gay and black communities (yes, the victim was black), and I thought we now had better uses for our constabulary - and that we could still afford real uniforms.
Actually, 57 years ago Bayard Rustin got off much easier than DeFarra Gaymon, whatever the unfortunate Atlanta businessman was doing in the park last Friday night.
According to the New York Times story, "The officer, whose name was not released because of his undercover work, had been on what is not usually a particularly dangerous assignment, scouring the park, in northern Newark, for men seeking sex." The Times also tells us: "The officer and his partner were patrolling the park in plain clothes, part of an operation that has been going on for years, said Mr. [Robert D.] Laurino, the prosecutor."
And that would be, . . . an assignment to arrest men who have no interest in frightening the horses. In the email he sent out before dawn this morning my friend, the activist Bill Dobbs, reminds us that "Those who seek hookups in such locales traditionally shield their activities from uninterested parties."
The Essex County sheriffs have been very interested for years. May we ask why?
The whole incident stinks, and the only hope for justice, and reform of current police tactics, is the power of the presumed outrage of both Gaymon's family and the community or communities targeted by a law enforcement agency.
In his letter, Dobbs asks:
What exactly was this undercover officer doing in a park known for cruising? Uniformed cops are safer and more effective for such situations – less danger when an arrest is made since cops identities are clear. Who approved this undercover operation? Was it a 'sting' operation, enticing men and then arresting them? Was the cop given this assignment considered attractive to other men? Were there backup officers involved? What does the NJ gay lobby think about this? The only person who seems to be quoted on NJ matters gay, Steven Goldstein, is so rabidly and single-mindedly pro-gay marriage - will he and the state-wide gay political group Garden State Equality speak about an alleged sex-related incident that ended in the death of an unarmed African American man? According to the Star Ledger newspaper several hundred arrests have been made in that park over a year and a half, where has Garden State Equality been? How much money has been wasted on this operation?
Additional links:
The (Newark-based) Star-Ledger
*
The image at the top is of Bayard Rustin's mug shot. His Wikipedia entry reads, in part:
In 1953, Rustin was arrested in Pasadena, California for homosexual activity. Originally charged with vagrancy and lewd conduct, he pleaded guilty to a single, lesser charge of "sex perversion" (as consensual sodomy was officially referred to in California then) and served 60 days in jail.
[image from GBMNews]