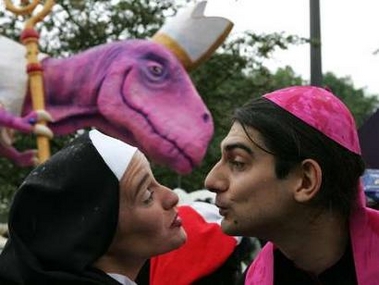 demonstrators dressed as a priest and a nun kiss in front of a large model dinosaur during an anti-religion demonstration in Cologne August 19, 2005 [as der Ratzinger arrived in Cologne]
Sometimes it's best to let the thing speak for itself.
I'm very proud of my family's ancient Rhenish Catholic [and before that, Roman without the Catholic] Heimat, and amazed at the effrontery of [Yahoo!]. See Bloggy for a related post.
[image by Pawel Kopczynski from Reuters which, together with my excerpt from its accompanying caption, is furnished by Yahoo!]