I wasn't going to say anything more today about the fifth installment of our annual orgy of mourning and revenge, the anniversary of September 11. But things just got out of hand once we walked into Pierogi this evening and now I can't help myself.
For some this sacred holiday was all about a service held around a small temporary wading pool installed downtown at the bottom of a very big hole (by now the flower-filled tank of water has probably been drained and its parts tossed into some recycling bin), but some of us decided we had to be around other, more thoughtful New Yorkers on the evening of the day which just won't shut up, the drubbing from which most of our countrymen seem to have learned all the wrong lessons.
Barry and I decided to go to Brooklyn, and specifically Williamsburg, always a reasonable choice in stressful times.
Tonight Pierogi Williamsburg threw an opening party for "Matt Marello and Matt Freedman, Five Years After" and it would have been a smash even without the presence of most of Brooklyn and Downtown Manhattan's art world working aristocracy and creative yeomanry. Matt Marello was in Gallery 1. From the press release:
Matt Marello's "1968/2001" is an extensive multimedia presentation based on the phenomenon of apophenia [the experience of seeing patterns or connections in random or meaningless data, according to the press release]. A few years ago, while digesting the events of 9/11, Marello began to notice an odd synchronicity between the destruction of the World Trade Center and Stanley Kubrick's sci-fi epic, "2001: A Space Odyssey." His further explorations led him into a strange and murky world, linking together such diverse elements as the moon, apes, 9/11, "2001: A Space Odyssey" and the historically pivotal years 1968 and 2001.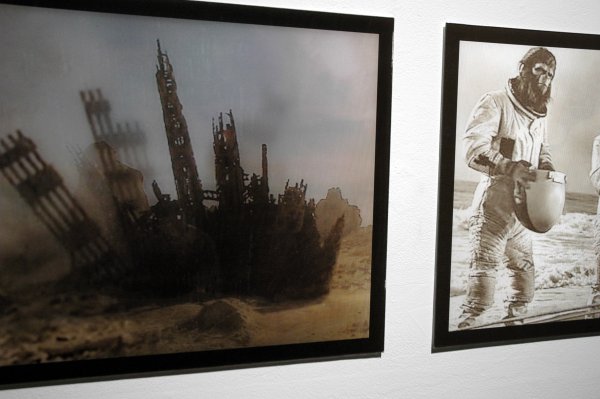 Matt Morello Lenticulars: Ground Zero/Planet of the Apes/Apollo 8 Astronauts/Escape from the Planet of the Apes 2006
2 Lenticular prints 20" x 63" [large detail of installation]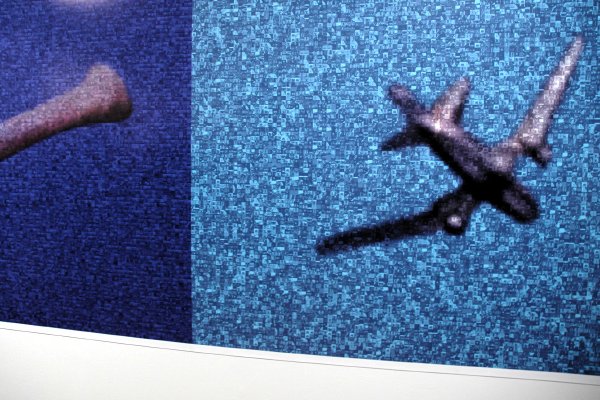 Matt Morello Bone (WTC)/Plane (2001: Space Odyssey) 2006 large format ink-jet print 60" x 158" [large detail of installation]
Matt Freedman's "Twin Twin II" in Gallery 2 was a wonderfully silly and welcome magical antidote to the baneful effects of our self-inflicted twenty-first century affliction: 9/11 24/7. From the artist:
I kept coming around to the notion that the images of the towers were sort of recurring waking dreams, and that collecting them should be a continuing process of perception and manipulation. What I keep looking for in all the material I am using is something uncanny--either in the found objects themselves, or in the nature of the interventions I make--that leaves a lingering sense of unresolved discomfort in the mind of the viewer. The overriding and consciously dumb idea behind the work is that whatever else the towers are, they are definitely not gone from our lives, and they never will be. (Freedman, 2006)
Thumbnails of only a very few of the twinned objects seen tonight in Freedman's ongoing project:









Presto! Exorcism complete.