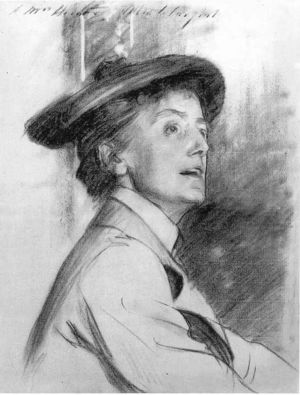 John Singer Sargent Ethel Smyth 1901 pastel
If this hundred-year-old opera had always enjoyed the success it deserves today I'd probably be whining about the endless parade of productions of La Boheme, Aida, La Traviata, Carmen and The Wreckers. As it turned out, for reasons I now find inexplicable, the last of the works I just named never made it. Dame Ethel Smyth's wonderful opera had in fact never been performed anywhere in the Western Hemisphere until last Sunday afternoon.
Barry and I are huge fans of Leon Botstein's programs with the American Symphony Orchestra. For us it's about "new music", but surprise! Here the pleasures of unfamiliar musical genius arrive via a well-prepared trip backward in time. The Orchestra's mission under Botstein's direction is more usually described as the resurrection of large-scale symphonic or operatic works from the previous two centuries, music which has been neglected, presumably unjustly. The audience may not always agree, but it's never left without help in mustering its response: In advance of each concert the music director supplies absolutely vital and articulate notes on the works themselves, as well as the context of their original creation and subsequent neglect.
All of this explains why I've been a subscriber since 1991, when Botstein began his current tenure as music director and principal conductor. So we would have been in Avery Fisher Hall on Sunday regardless of what the program was, but this one promised to be a particular treat.
"The Wreckers" was composed by a privileged and educated fierce Victorian English lesbian suffragette who was once imprisoned for her activism but otherwise lived and worked in friendship with some of the European cultural giants of her age. The opera's theme, perhaps more topical in 2007 than at the time of its composition (1903-04), is the horrors of which a provincial, fanatically-religious, self-regarding community is capable. Botstein's essay in the program notes suggested that it's the first worthy opera written by a Brit in almost two hundred years. Of course I was interested.
Reviewing the afternoon's performance and the opera itself for the NYTimes Bernard Holland seems to have been almost as enthusiastic as I was, about both the performance and the opera itself, and he appears to agree its oblivion was a big mistake:
"The Wreckers" gets your attention. It charges at the audience with all guns blazing, and tramples the weak and the hesitant in its path with a story of pillaged ships and triangular loves.

Smyth (1858-1944) was determined to fill as big a physical and emotional space as eight singers and a big chorus and orchestra could manage. Everyone onstage seemed to rage with Ethel Smyth fever, pouring out nonstop fervor in one relentless fortissimo after another.
. . . .

"The Wreckers" is not aimless cannon fire; Smyth knew what she was doing. Her orchestra makes winds whistle, waves roll and crash, and fog creep over the rocks in dark minor chords. From the land we hear hornpipes and sea chanteys in the distance. All the elements of a complete oceanography are present and rationally arranged.
But while I thought the work was a real keeper, and I'm dying to see it fully-staged, Holland, apparently viewing it only from the vantage of the succeeding one hundred years (a considerable
advantage
over poor Smyth) ends a very enthusiastic review of the merits of the piece itself with a bizarre
non sequitur
:
Does "The Wreckers" get a third chance? At some point, I am sure. It is not a deathless work, and too much exposure might do it more harm than good. Too much value is put on permanence anyway. "Disposable" is not a dirty word. People got their money's worth on Sunday and should perhaps let "The Wreckers" go back to sleep.
Only in the American world of opera world is the word "deathless" always confined to the teeny list which begins with La Boheme, Aida, La Traviata and Carmen.
For more information about Smyth and her opera, see the American Symphony Orchestra's site, and click onto links for the two essays at the bottom, under "Dialogues & Extensions".
The image below, a late-eighteenth-century painting by George Morland, describes a somewhat brighter version of the dark setting of Smyth's opera.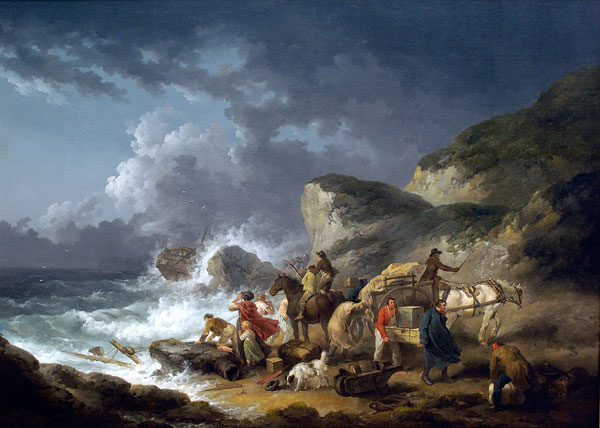 George Morland The Wreckers 1790-1799
[first image from de.wikipedia; second image from the National Gallery of Canada via sandstead]