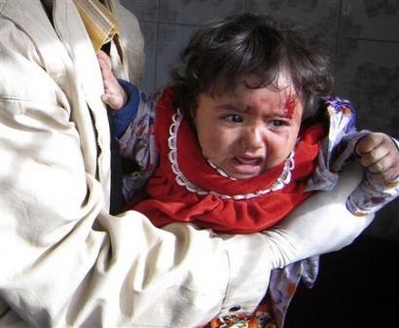 A girl, who was wounded in a bomb attack, receives treatment in a hospital in Baquba, 65 km (40 miles) northeast of Baghdad, December 25, 2007. U.S. forces killed two gunmen and detained four others in operation near Baquba, the U.S. military said. Hours later, a suicide bomber killed four people and wounded 21 at the funeral of the two men who were killed by the Americans, police said.
I'm not feeling good about religion today, any religion, but nothing new there.
I'm listening to a magnificent recording of Handel's "Messiah" (the music, the music). I'd just read the CD liner notes which refer to Handel's beneficences to the children's home, London's Foundling Hospital, which has been associated with his oratorio since 1750. Then I opened my computer to the news stories on my home page. The lead item from Reuters cried out with the image and caption at the top of this post.
There are no words for this obscenity.
[image and caption from an unidentified stringer working with Reuters]