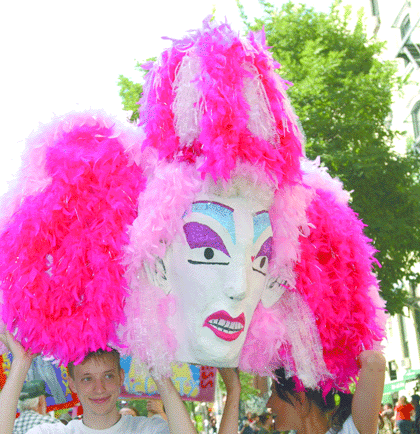 Ethel Eichelberger honored in Howl!'s "Pantheon Parade" - would she be pissed too?

It's not just me, and I didn't make it up.
I'm talking respectively about my disappointment with the narrow focus of the HOWL! Festival, and the Festival organizers' ouster of ACT UP from Tompkins Square Park.
It's right here, and in hard print.
Many long-time residents felt that the festival was not for them, but for the people who recently took over the area. Members of ACT UP claim that police force was threatened against them by the very organizers of the festival. Latinos were largely invisible, and not even lip service was made to punks.

. . . .

Exclusion still exists on a large-scale, and it can be sensed everywhere these days in the East Village. Perhaps that is the most authentic part of the HOWL festival, that the inequalities and discriminatory practices that prevailed reflect some of the themes that influenced the scene back in the 80s and 90s.
The
Gay
City
News
article explains why some in the community, especially those concerned about the largely absent Latino and punk representation, are complaining that the Festival "was engineered for the people who gentrified the East Village," and describes in some detail how ACT UP, a part of the neighborhood since the 80's, was evicted from a very public park last week.
The most hopeful note in the entire account was sounded in its report of a call for an "Anti-Howl Festival."
A few blocks across from Tompkins Square Park, on St. Mark's, Bobby Steel, formerly of the punk band "The Misfits," and now of "The Undead," mentioned the possibility of an Anti-Howl Festival. Punk rock as a cultural movement had deep roots on the Lower East Side during the 80s and early 90s, with punk venues including ABC No Rio, the World, and the Pyramid, among numerous other clubs. Mohawks, leather, and chains were once common accoutrements in East Village fashion.

Nonetheless, there was little punk visibility, either through nostalgia for the past or a respect for the on-going punk culture. Perhaps Steel was serious, but even as a joke, the idea of an Anti-Festival illustrates how some Lower East cultural actors felt dissatisfied.
- and as ever, both playful and provocative.

[image: Villager photo by Elisabeth Robert]