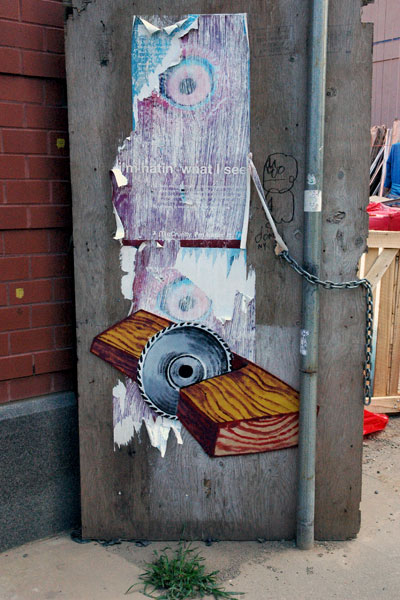 Jason Eisner installation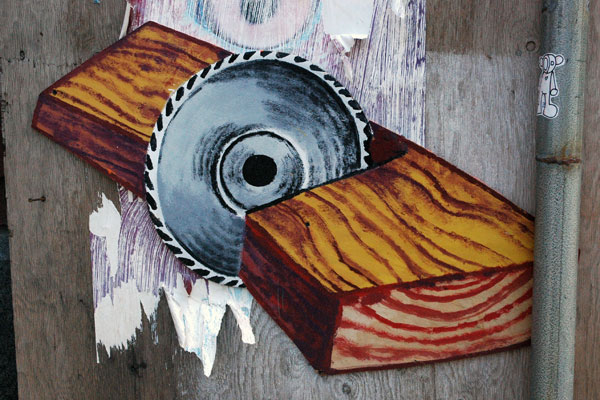 closeup
Barry spotted it first: We had just left "Blood Drive" the excellent installation curated by Kate Levant at Zach Feuer (more on that in my next post) when we saw this plywood piece attached to a plywood section of a construction fence outside of what is arguably Chelsea's baddest monument to pure excess, 200 Eleventh Avenue condo project, which includes "En-Suite Sky Garages"*.
I was embarrassed that I couldn't identify the artist and had to ask for help from an authority. Our friend Hrag came through with the answer: It's Jason Eisner. Eisner collaborated with Jason Balicki in the exciting installation, "Back & Forth", at English Kills earlier this summer, and the two of them (as "J & J") are a part of the group show at P.P.O.W. which closes today.
And there's still more, much more, of Eisner on Flickr.
Oops. Looking for the links I'm using in this post I just discovered the identity of the artists who created the bench in Ascenzi Square. I don't know why it took me so long, when the English Kills site makes it pretty clear: It was Jason Eisner & Jason Balicki.
*
Here there appears to be more than one message in the almost-painted-out posters underneath Eisner's piece. They read, "i'm hatin' what I see", the text of PETA's anti-McDonald's campaign against McDonald's chicken-slaughtering practices (which play on the corporation's familiar "i'm lovin' it").