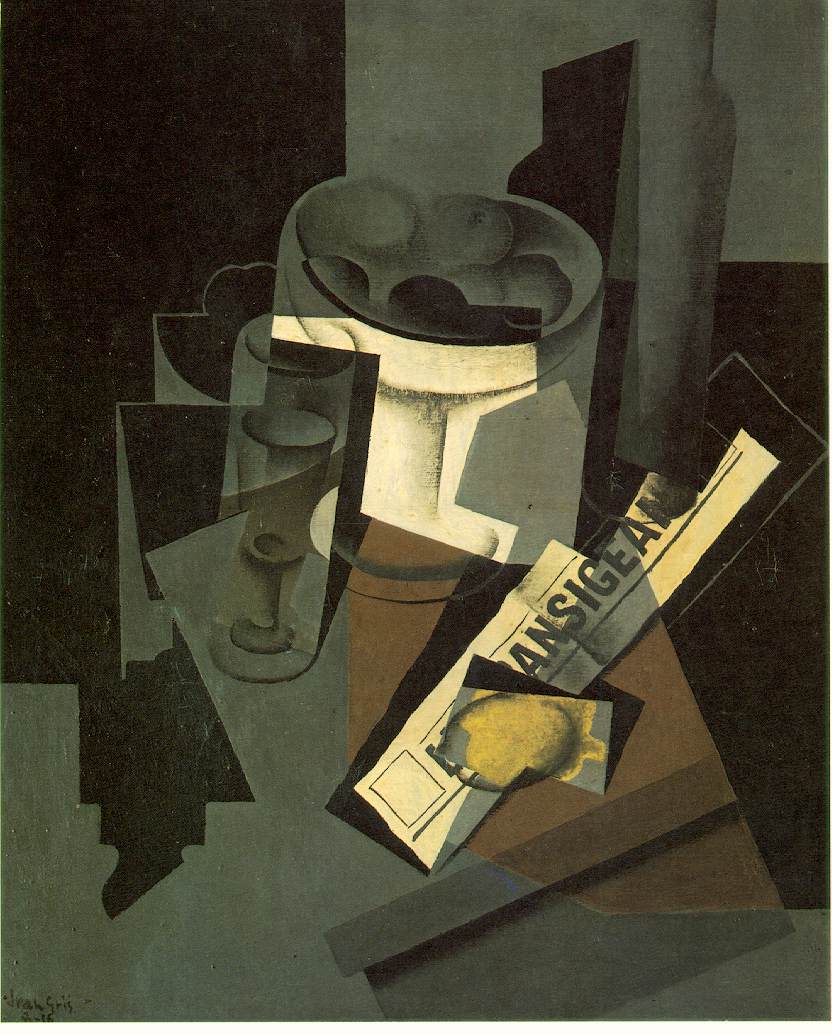 Juan Gris Fruit Dish, Glass, and Lemon (Still Life with Newspaper) 1916 oil on canvas 28.75" x 23.5"
I don't know anything about cooking, but I know what I like. No, that's not quite right. I do know something about cooking, and I know when it's right, but I'm not really a creative chef. When it comes to the things I love (including the arts) maybe I usually get by with only an intense curiosity about the new, a certain amount of taste and a good deal of almost-academic deliberateness.
I started cooking years ago while a graduate student at Brown. Perhaps imagining myself more impecunious than I really was, I convinced myself that learning to cook would be the most reliable way to be certain that I would eat very well - at least some of the time.
I can report right now that two nights ago Barry and I ate really well. No, it wasn't the first time, but I did get pretty excited about it, partly because it was so unexpected - and so easy. It's now Wednesday, and the immediate near-ecstasy of the moment has passed, but I told myself while clearing the table on Monday that I had to write about a meal which, although rather casually assembled, ended up an almost perfect little Italian table. I wish I could pull that off every night, and even more to the point, I wish we could share it with others more often than we do.
I had spent several final hours at the Armory show that afternoon while Barry stayed home to work, and when I returned home I wanted to go through mail and post a bit before dinner, so my early-evening Whole Foods trek for provisions was more perfunctory than usual. At the market I decided on squid (I know, it was don't-buy seafood-on-Monday, but they looked and smelled great) and some very fresh-looking broccoli rabe. While there I remembered I had a small net of golden fingerling potatoes hanging on a hook at home.
Altogether it was a pretty modest Italian meal, especially since only if I were to count our eager "seconds" could I begin to relate it to the three or four courses and dessert tradition:
Dressed Squid briefly roasted in the oven together with crumbled red chilies, dried oregano, a bit of olive oil and the juice of half a Meyer lemon;

potatoes on the same plate, also roasted in a baking dish in the oven, but for a full half hour, after being cut lengthwise into four pieces, mixed together in a bowl with chopped garlic, oregano leaves (the recipe had specified marjoram, but the larder showed only the fresh form of the dried herb called for with the squid), a little olive oil and this time two lemons, each cut into twelve wedges and squeezed with the rest of the ingredients;

the very green contorni, served in separate bowls, was the rabe, quickly boiled, drained and then sauteed in a pan which had first heated a few garlic slices in olive oil;

the wine was a simple bottle of Fiano Di Avellino from Campania.
The pleasures were of both the palate and the eye, as they must be with a good meal.
I was amazed at how fantastic the seafood and the potatoes both looked and tasted together, and the vegetable was as perfect a visual contrast as it was a gustatory one.
The cooking utensils, my old white-lined blue enamel NACCO baking pan for the squid, a red-brown terra cotta rectangular pan for the potatoes and a heavy, black Wagner iron frying pan for the greens, all eventually found a home on top of our high-legged dark green and cream deco 73-year-old range, but there never seems to be time for pictures at these moments. Sitting at the old maple turned-leg drop-leaf in the breakfast room we ate off sturdy cream and mushroom-colored Shenango restaurant ware, with small lightly-tinted ribbed-glass Duraflex kitchen bowls on the side for the greens. Once again we found this really good homey restaurant in the middle of Manhattan; we'll be going back.
The recipes I used for the squid and the potatoes are from the really excellent "Italian Easy: Recipes from the London River Cafe
by Rose Gray and Ruth Rogers, which is accurately summarized in Amazon's editorial review: "These are visually spectacular, remarkably simple recipes for those who love good food but have little time to prepare it."
[image from the Artchive]