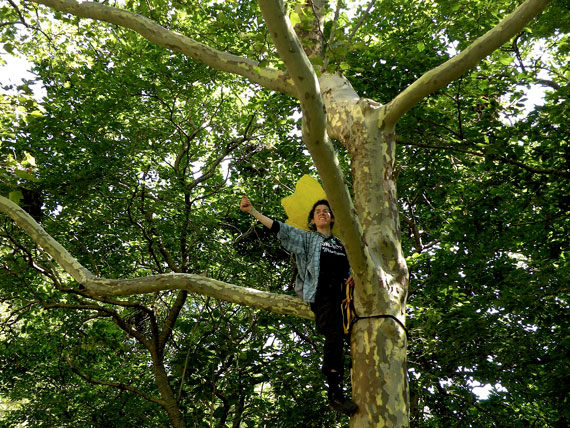 Jessica Sunflower planted in CIty Hall Park
UPDATE: A public hearing concerning the City's proposed new rules will be held next Tuesday, August 10 at Chelsea Recreation Center, 430 West 25th Street, at 11:00am. It should be very colorful. The New York City Community Garden Coalition (NYCCGC) is urging its supporters to testify about the importance of making community gardens permanent. Information can be found on the Coalition's web site, including the proposed rules themselves, the expiring 2002 agreement, and a history of the evolution of New York City community gardens.
New York City appears to have officially abandoned its efforts to preserve the 500 community gardens which have been protected from development since 2002 by the Spitzer Agreement ("Preservation Agreement"). That compact, which ended a hard-fought battle begun more than 20 years earlier, saved hundreds of community gardens, but it expires on September 17 this year.
Proposed Department of Housing and Preservation (HPD) rules will permit these precious urban green spaces to be legally transferred for commercial development. These popular and flourishing bootstrap gardeners' oases had replaced neighborhood vacant lots where buildings had been abandoned by landlords following the flight of residents to the outer boroughs and the suburbs during the sixties and seventies.
These older structures, neglected and often torched, but ultimately leveled in any case, all eventually became city property. The City hoped to profit from their sale and the tax revenues which would follow their development, but there was no commercial interest in the properties until residents, both old and new, had worked hard to successfully rebuild and improve their neighborhoods.
The communities which have fought for these spaces and nurtured them for years are understandably very angry. Yesterday Jessica Sunflower and some friends decided to bring the Time's Up! campaign to preserve these gardens down to City Hall itself. The precise venue chosen was City Hall Park, on the doorstep of both the Mayor's office and the City Council Chamber. Sunflower managed to climb into a tree planted in the Mayor and Council's own official "garden", and she was joined on the ground by some serious community advocates.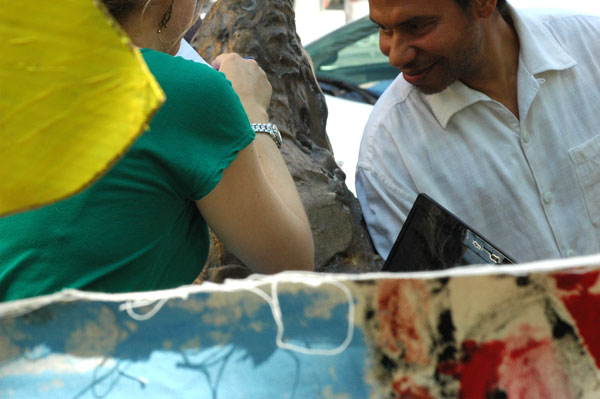 modern activism: back on the ground, even as Sunflower was being ushered into a police vehicle, supporters were busy broadcasting the action from a laptop resting on the plinth of a bronze sculpture at the edge of the park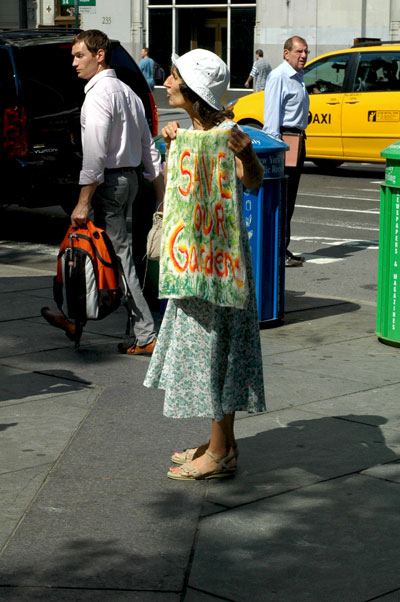 the voice of one crying in the City Hall wilderness - will it be heard?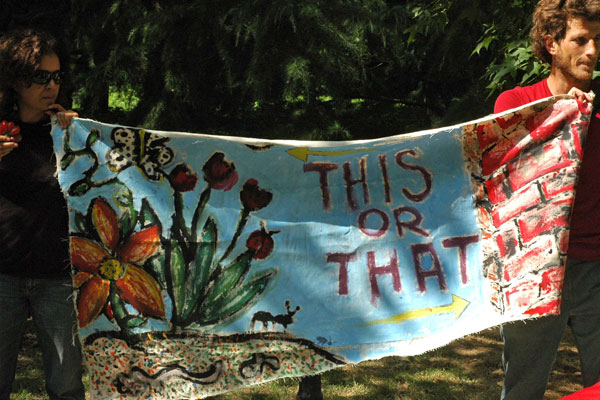 for thirty years, the communities have chosen gardens over brick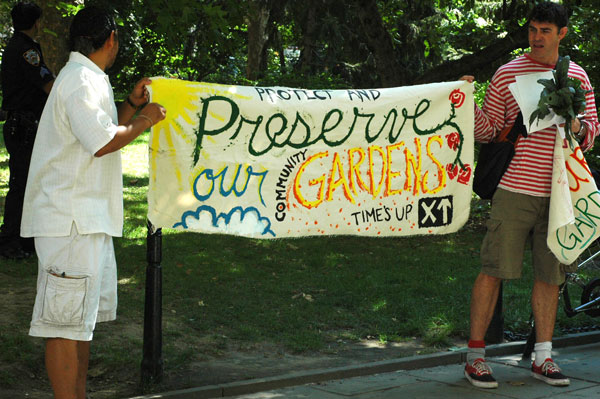 kale bouquet: the Times once described New York's more successful community gardens as "spectacular stretches of kale-toned respite"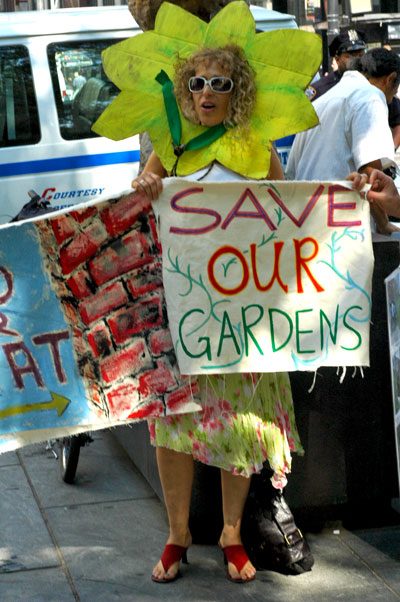 the sunflower petals abandoned by the prisoner while she was being removed from the tree were quickly salvaged and recycled back on the ground
[image at the top by Rebekah McCabe, from a Flickr set uploaded by Barbara Ross]