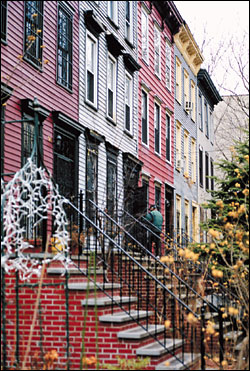 Dean Street
[see yesterday's "replacing people with a basketball court"]
New facts are emerging about the political and money deals behind the project, and about the vibrant community which woud be destroyed if an "eminent" real estate mogul gets his "domain".
Anywhere else in New York, time would pass too fast or slow for us to notice this unfolding history [that is, of the Village Voice writer's neighborhood]. Most of the city has such a high turnover rate, no one would ever bother to learn anything about the prior residents, while those places that pride themselves on their constancy, like Carroll Gardens or Fort Greene, are desirable because they haven't changed. Now that Ratner and company have awakened us to the possibility of upheaval in our backyard, we're feeling very protective of what we have: a comfortable community that doesn't feel bourgie or exclusionary, that makes room for its past while slowly evolving into most people's present. It's the best kind of New York, and it's why we chose to live here. We want our son to feel at home on the block, but we want him to think everyone he meets belongs here too.
The
NYTimes
, which is enthusiastic about the sexed-up sports arena, mall and housing complex planned to displace hundreds of Brooklyn families, finally admitted to at least one of its ongoing intimacies with developer Bruce Ratner.
The team's move from the Meadowlands in New Jersey — if indeed it ever happens — won't occur overnight or without a fight. The $300 million deal to sell the Nets to Mr. Ratner (whose development company is a partner of The New York Times in building the newspaper's new headquarters) is just a first step. [from an editorial today]
Ratner has just purchased the New Jersey Nets professional basketball company. He intends to install it in a $.5B complex in Prospect Heights, next to six blocks of $2.5B in other new structures. [The dollar figures are already being described as seriously underestimated.] The buildings would be occupied by commercial and residential tenants paying him generous market rate rents. The problem is that they are not his blocks. The people living there now don't pay Ratner a penny in rent. He will need the city of New York to seize the buildings and the land on a perverse interpretation of the principle of eminent domain. Ratner also has the nerve to expect the city to help pay for his personal obsessions: letting others watch him play with money and watching others play with balls.
Leave it to Newsday to tell us once again what the Times won't. Ratner said in December that 100 people would be relocated. The real figure may be closer to 1000.
Finally, even the Times can't avoid covering some of the objections to the project in its story today, although this part of the text comes at the very end.
Councilwoman Letitia James, whose district includes the neighborhood, is a rare voice of opposition among Brooklyn politicians. She considers the project an oversized monster that will destroy a vibrant working-class neighborhood that has rebuilt itself over the past 20 years.

"This is a great day for rich developers and a sad day for working families," Ms. James said. "It will open the floodgates to public financing of sports arenas."

Harvey Robins, a former official in the Koch and Dinkins administrations, said the Ratner project is "antithetical" to building communities. "You're putting up monstrous buildings in a low-density area."
Boys throwing their weight around. This is a rehearsal for Manhattan's own stadium
boondoggle
.
[image from the Voice]