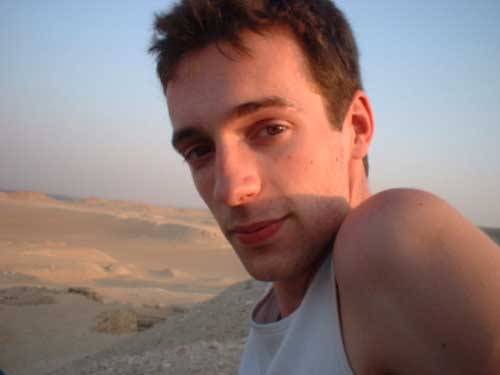 Tom Hurndall
He's gone. I had actually thought that he had died last April, but Thomas Hurndall had survived in a vegetative state until this week, when he succumbed to pneumonia in a London hospital. He had turned 22 while lying in a coma. Hurndall had so little time, but while he was alive he seemed to care about helping others more than anything else.
He had joined protests against the war in Iraq, but his mother Jocelyn has said he was not that political - although he did like to help the underdog.

His family remember the 22-year-old as someone who squared up to a mugger trying to steal a boy's mobile phone near his home in Tufnell Park, north London.

His sister Sophie told the BBC: "Tom was somebody who made everybody laugh, he was intelligent, witty, caring - the kind of person who was always sticking up for anybody who was in trouble."

. . . .

His family say his diaries show he was clear headed and went with an open mind to Rafah, determined to draw his own conclusions about what was happening to Palestinian civilians.

But he was deeply affected by the sight of a young boy he had photographed being shot in the shoulder.

Eyewitnesses are said to have seen him pulling two Palestinian children to safety in Rafah when he was shot in April 2003.
Aimée
Stauffer-Stitelmann
is still alive, very much alive, at 79. This week she became the first citiizen to seek to clear her name under a new Swiss law which is intended to finally pardon those who were penalized for helping victims of Nazism. Many Swiss citizens had been tried and disciplined or imprisoned for violating the country's neutrality before and during World War II while trying to aid victims of the Nazi regime. Stauffer-Stitelmann is credited with saving the lives of 15 to 20 Jewish children and assisting a number of Resistance fighters, beginning while she was still a teenager. She has in fact been an activist all of her life.
After the war, Ms. Stauffer-Stitelmann said, she supported partisans fighting Franco in Spain and organized protests against apartheid in South Africa and the American war in Vietnam, and was at the front of antiglobalization marches last summer in Evian, France, during a meeting of the major industrial nations.

After retiring as an elementary school teacher in 1987, she helped set up an underground school in a church to teach French to the children of illegal immigrants. (The children were banned from attending public schools.)

Her political activities were secretly monitored by the Swiss government until the 1980's, until public revelations about the extensive monitoring of Swiss citizens ended the practice in the late 1980's.

According to her file, which is now public, she was accused, among other things, of subscribing to Communist publications and helping Spain's anti-fascist movement, and of organizing a news conference in Bern against the Vietnam war, where she even "paid for the room and the aperitifs."
Dorothy Day
died in 1980, but the work which she began continues today, usually benefiting most those neglected or insulted by other institutions, "the homeless, exiled, hungry, and foresaken", in words which appear on the website of the organization she founded,
The Catholic Worker Movement
.
Late Tuesday night we found ourselves walking past their New York headquarters, Mary House, on East 3rd Street. It was freezing cold outside. Inside, up a few steps and plainly visible and secure in the lobby of the modest nineteenth-century building, was one or more of those big canvas-sling mail bins on wheels often used by street people to store and move their possessions around the city. The cart was more than full. Through the windows below grade we could see a cozy lounge and some people bustling about. Those Workers and their guests represent more than food and shelter.
The nuclear age has sharpened awareness of the need for disarmament and alternatives to war. The widening gap between rich and poor in our country and between nations has spurred greater urgency in the quest for a more just social order. But the distinguishing marks of the movement remain smallness, decentralization, personal responsibility, the personal response to persons in need in direct encounter and a search for answers to the questions that arise from that meeting: Why are there so many poor and abandoned? What is honest work? What is due workers and the unemployed? What is the relationship between political, social and economic democracy, and between these and the common good? [excerpt from a description of the movement found on their own site]
These three individuals, and those who work with their heritage and their spirit all over the world really are "saints", but we don't have to"canonize" them to recognize or emulate their selfless concern and their work for others.
Meanwhile, in St. Patrick's Cathedral on 5th Avenue, the very grand showplace of the American Catholic Church, the homeless are thrown into the streets every night by ushers and police. This is not the work of saints. It's not even the work of decent human beings. Jimmy Breslin writes today:
They were in a palace away from the cold, the most famous church of the Catholics in America. It is supposed to represent the Lord's religion.

On this cold night, one of the ushers said that the church closes at 8:35 p.m. Exactly.

And at a little before 8:30, a man on the right side stood up, yawned, stretched and then gathered his plastic bags and walked down the aisle.

From far up in front, a woman pulled her suitcase on loud wheels.

At 8:35, a cop and an usher walked around the church telling homeless people that the church was closing and they had to go out into the cold.

"Nobody can stay?" an usher was asked.

"Church closes," he said.

In the last row on the left side, a man stirred, then sat bolt upright. He put on a blue wool hat and lifted a backpack that he carefully put on. He had two heavy shirts to fight the cold. He started out. People were coming from the darkness on the side aisles. Soon, the church was empty.
As I finish posting this tonight, the temperature reads 1 degree above zero fahrenheit, with 21 mph winds.
[image by Kay Fernandes on The Thomas Hurndall Fund site]