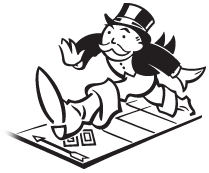 passing GO
We're telling them, "we're not going to regulate you, and we're going to bail you out when you fuck up."
I didn't say it. It was Barry. It was just a few minutes ago. He was replying to my reading outline the Reuters headline, "Bear near announcing sale to JPMorgan: source". Like many others who happened to be noticing what's been going on, I had already been shocked to hear that my government had decided to throw a "financial rescue package"* at Bear Stearns, a quintessential capitalist firm which had failed at capitalism (slapped by "the invisible hand"?). This afternoon we learn that one of its rivals had decided that now Bear Sterns was an attractive investment.
NEW YORK/WASHINGTON (Reuters) - JPMorgan Chase & Co (JPM.N) is close to rescuing the fifth-largest U.S. investment bank, Bear Stearns Cos Inc (BSC.N), a person familiar with the matter said on Sunday, in a deal that could be announced in the next few hours.
Of course none of these people went to jail, but none of them even lost their jobs and none of them lost their ginormous bonuses.
But it's looking like the country's about to lose its shirt. I know these lines are a gross simplification of the economics drama being played in the headlines (and conducted behind our backs), but Gretchen Morgenson's piece in the NYTimes today both explains it in super-lay-person terms and suggests the horror of its potential (likely?) consequences. Here's just a peek:
HERE is the bind the Fed is in: Like the boy who puts his finger in the dike to keep sea water from pouring in, the Fed finds that new leaks keep emerging.

Regulators must do whatever they can to keep the markets open and operating, and much of that relies upon the confidence of investors. But by offering to backstop firms like Bear, who were the very architects of their own — and the market's — current problems, overseers like the Fed undermine a little bit more of that confidence.

Another worry? How many well-capitalized institutions remain at the ready to take over those firms that may encounter turbulence in the future? Banks just do not have the capital that is needed to rescue troubled firms.

That will leave the taxpayer, alas. As usual.

And this excerpt doesn't even address the consequences of foreign investors losing confidence in our capital markets and our government's ability to keep things together.
Hold on; we're in for a very rough ride.
*
"The size and terms of the credit line were not disclosed. JPMorgan will borrow the money from the Fed and lend it to Bear Stearns, and the Fed will ultimately bear the risk of the loan." [quoted from an earlier NYTimes article, "Run on Big Wall St. Bank Spurs Rescue Backed by U.S."]
[image from Hasbro]