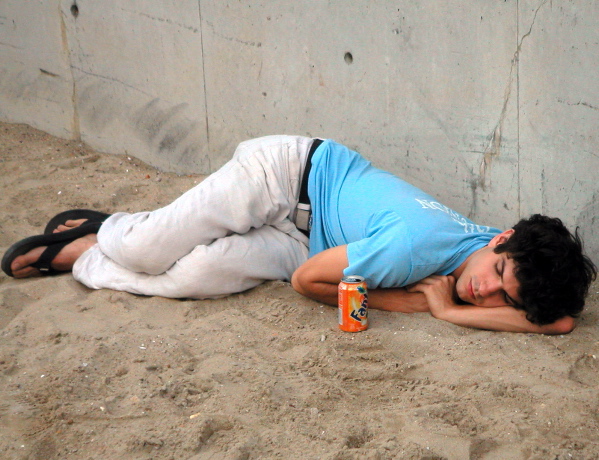 PS1 and the members of Young Architects Program, responsible for the beautiful courtyard installation, should be delighted to know that the visitor pictured above, relaxing in one of their outdoor spaces, had made the art very much his own for part of the day. (We remembered seeing him earlier inside, very intent upon the work in the Special Projects and Studio Program rooms, but he may have been inspired by the sandy images in Ugo Rondinone's beautiful installation, "Sleep.")
I nearly forgot to post something about our visit to PS1 on Sunday afternoon. We almost didn't make it at all, since neither Barry and I nor our friend Karen were anxious to get the early start our day's ambitions recommended. We started out with a pilgrimage to ATM Gallery in the East Village, hours before the current show was to be taken down. Half of the afternoon had evaporated before we squeezed into the crowd drawn to Long Island City for the Museum's summer show, "Hard Light."
It was a warm urban moment. Summer in the city. People were drawn by the art and maybe the music, but perhaps more than anything else, by each other.
We will have to return to get a good look at the work of some 40 or 50 artists and collaboratives installed in and around the rambling old school building, but judging from what we did manage to see, I'd say that anyone would have to be quite dead not to be delighted, surprised or challenged by much of what's there.
The weekends on Jackson Avenue are great fun, but the weekdays are probably better for serious arties.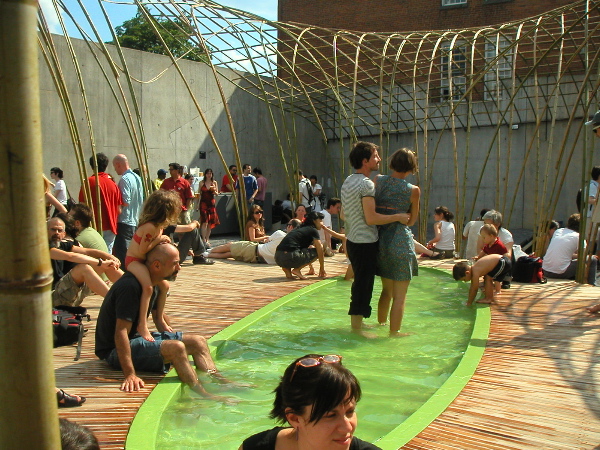 arties and friends having fun in the main courtyard on Sunday