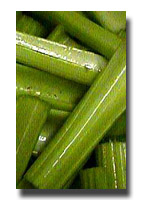 store-bought cut celery
Overheard from the loudspeakers at our neighborhood Whole Foods this afternoon, clearly audible above the sounds of colliding shopping carts being pushed by harried people with long shopping lists, [almost] all prepared for elaborate home-cooked feasts tomorrow:
". . . calling the lady who wanted the cut celery, . . . calling the lady who wanted the cut celery; your cut celery is ready at customer service . . . ."
I looked around and caught the attention of the store's excellent produce department's wise sage. He rolled his eyes upward. I smiled at this discreet admission of his dismay, and I shrugged my shoulders in an acknowledgment of its source.
For the sake of the other guests at the Thanksgiving meal she certainly will be sharing, I hope she doesn't have any more complicated assignments.
When I told Barry about the announcement he had an immediate explanation for the woman's strange request. "Maybe she didn't have time to cut it and still put the Cheez Wiz in it."
[image from ClubChef]