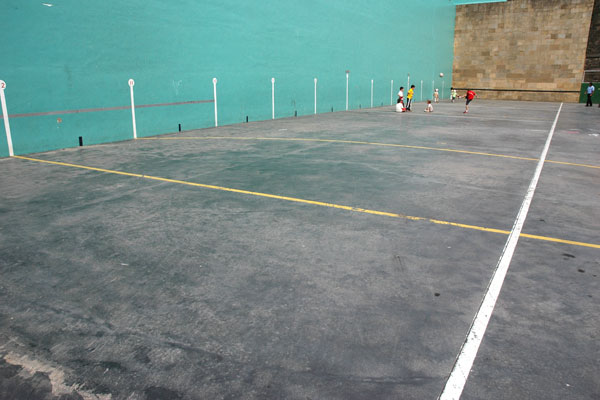 children playing in a fronton in the fishing town of Getaria, on the Basque coast
I've just put dozens of images on Flickr, specifically of people we encountered during our two weeks in Spain. Most of them are complete strangers, but Barry shows up regularly. It doesn't surprise me that there is a disproportionate number of attractive men. There's also one dog patiently waiting for its young master. The pictures appear chronologically, and the series begins in Madrid, moves north to Segovia and several small towns in Castille-Leon, La Rioja and Navarra, goes on to Pamplona and some smaller towns in Basque country, including Gueteria on the Costa Vasca, continues through Aragon, including Zaragoza, and ends in Barcelona.
Some of these pictures are beautiful, some cute, some funny and some revealing. The remainder (in fact all of them) are at least individual small documents.
Over the next few days or more I expect to be tagging and titling them, and I'll also be adding other shots (the people-less ones), and some will appear on this site as well.