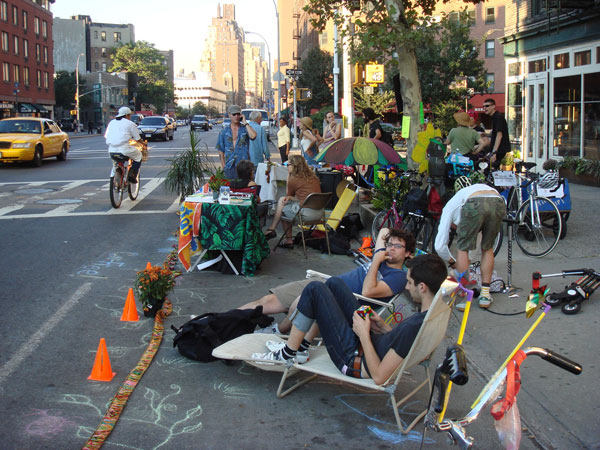 hanging out in a park and free bike repair station on 7th Avenue at Charles yesterday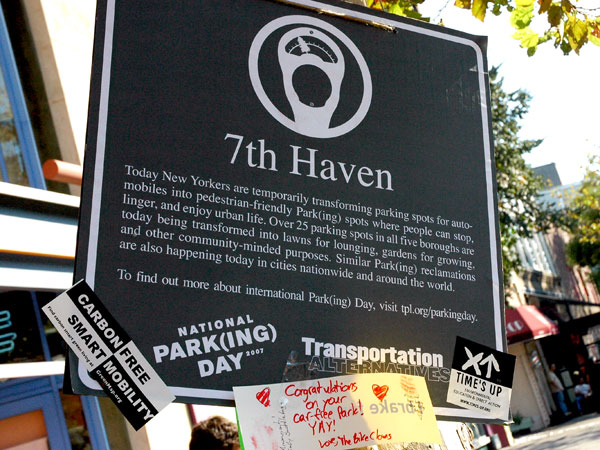 Park(ing) Day, it's about serious greenstreets
See Jim Dwyer's column for a word picture of the larger footprint of New York's part in the event, organized by the Trust for Public Land.
Another piece in the NYTimes reported:
The city's Transportation Department does not know the total number of parking spaces in the city, but according to Transportation Alternatives, an advocacy group, 45 percent of public land in Manhattan is dedicated to moving and storing cars.
That's a pretty impressive figure, especially since the total area of "public land" would include Central Park and every other square foot of park and sidewalk.
NOTES: I found the wonderful Barbara Ross photograph [earlier credited on the flickr site to Mike Pidell, who is actually in the photo instead] at the top of this entry while looking for pictures of yesterday's events. The unremarkable image of the sign is mine. Finally, before I was told that the photo had mistakenly been credited to Pidell, while I was searching for a way I could link to him I located this delightful five-minute bike clown video from last year, "Bike Lane Liberation".
[with thanks to Tim Doody, image by Barbara Ross from flickr]