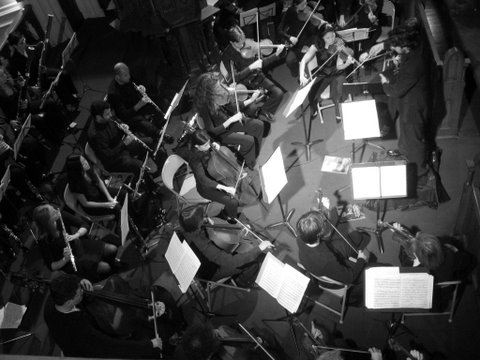 supernal music between the altar and the first pew
Barry and I are big fans of the two-year-old Chelsea Symphony. It has little to do with allegiance to a home team, even if that's what got us into the little German Church around the corner the first time. There were also at least two other connections: One of our neighbors, Blair Lawhead, is a superb violinist who plays with the group and Louise Fishman, who also lives across the hall and had beaten us to a performance, has since lent an image of one of her magnificent paintings to animate the orchestra's posters. It seemed like everyone in the building, including the doormen and porters, knew about our local band of players before Barry and I heard them for the first time.
This summer, through the generosity of another neighbor, David Shear, a string quartet composed of musicians from the Orchestra was engaged to play as part of our annual garden party. Wow. Now that's a home team.
Since first attending a concert last summer, we've found it almost impossible to miss any of their appearances. Yes, they're that good; they're very good - but there's even more to like.
I started out in the Midwest a long time ago with a passion for serious music almost from the very beginning. I've now lived and traveled over much of the world, during which time I've enjoyed some magnificent orchestras I've attended (with pleasure, but often with too much wincing) more than most people's share of performances by smaller, less professional ensembles. When I'm home I'm surrounded by thousands of LPs and CDs, for the most part "classical" recordings of music stretching from ancient Greece to the day before yesterday. They are mostly professional ensembles and the majority are on commercial labels.
But to be in a modest-sized hall with this Mozart-sized company of well-rehearsed, enthusiastic and gifted young artists lifts the spirit in ways an orchestra like the New York Philharmonic never can. Yes, tears will happen. And perhaps to top it off, there's at least one piece of new music in each program - take that, Lincoln Center and Carnegie Hall programmers!
If New York has more living composers than there are music programs open to them, there are also far more great musicians and conductors than there are seats or podiums available in the orchestras. Some of these composers and performers still believe in symphonic music and some of them are stubborn enough and creative enough to take things into their own hands and do something about it. Some of them have founded, or found a home in, the Chelsea Symphony.
I highly recommend this concert experience, regardless of what your previous commitment to classical music may be, even if doing so might make it harder for me to ever find a seat again only a dozen feet from the conductor.
This is an excerpt from the Wikipedia entry for the Chelsea Symphony:
The Chelsea Symphony is an orchestra noted for its uniquely fluid hierarchy. Based in New York City, The Chelsea Symphony's members rotate as the ensemble's own conductors, composers, and soloists. Each season, every conductor conducts a complete symphonic program with the group; each composer has a new work performed by the full orchestra; and every soloist performs a featured piece with the entire ensemble. The Chelsea Symphony gives most of its concerts at the German Church of St. Paul's.
There will be performances this Saturday at 8 and Sunday at 3, in St. Paul's Church at 315 W 22 Street (just west of 8 Avenue).

Saturday at 8:
Debussy Prelude to the Afternoon of the Faun (Don Lawhead conducting)
Haydn Cello Concerto in D Major (Mark Seto conducting, Michael Haas, cello)
Wagner Siegfried Idyll (Geoff Robson conducting)
Mozart Symphony 29 (Geoff Robson conducting)

Sunday at 3:
Strauss Concerto No. 1 for Horn (Mark Seto conducting, Katherine Smith, horn)
Wieniawski Fantasia on themes from Gounod's Faust (Mark Seto conducting, Hanna Lachert, violin)
Wagner Siegfried Idyll (Geoff Robson conducting)
Mozart Symphony 29 (Geoff Robson conducting)
[image from Wikipedia]