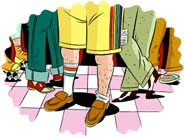 Storied John Weir ( "The Irreversible Decline of Eddie Socket" author, CBS terrorist, elusive man about town, beloved professor) has been watching Television. Well, maybe it's less like pay-per-view than view-per-pay, since his account of what he has been seeing ran under his own byline in the NYTimes on Sunday.
Professor John has been watching "Queer Eye for the Straight Guy," but he has his own reading of both the amazing current popular flowering of queer sensibility, and the popular sense of queer powers which accompanies it. He thinks it's something of a misreading of reality, and something less than the straight guy's envy of a putative higher aesthetic way out of his reach.
I think John has adopted a French deductive approach in his analysis of the queer aestetic, something like, "It doesn't fit with my experience therefore it must not be true." John tells us that it's his experience that queers do not have an "eye" - or at least that they don't let it fashion their own appearance or manner, and especially not that of their personal environment.
If this is reality TV, why aren't the straight guys hostile and punctilious and the gay men sloppy and depressed? "All the gay men I know are terrible slobs, including you," my mother told me, when she called to discuss the show. "Do you think you could get them to clean up your apartment?" Indeed, the show insists on reinforcing the stereotype that gay guys are groomed and charming and slender and witty, and no more than 35 years old. Yet here I sit in my Megadeth T-shirt, dirt broke, middle-aged, downing a carton of vanilla ice cream and spilling it on my computer keyboard.

Some gay men dress down to look "street," but I'm not a chic slob, I'm a real one. My apartment is designed like a bowling alley, with the furniture pushed against the walls, except where it can be used to cover carpet stains.
Well, his proposition is at least worth an entertaining argument, and John is more than equal to that, but his take on why straight guys are willing to listen to queer style coaches is even more intriguing. He says the new "reality" TV show flatters heterosexual men by putting them where they already are, at the center of the action.
In the meantime, is "Queer Eye for the Straight Guy" creating a new "common ground" where gay men and straight men can bond? No doubt it is, for some people — in particular, for television executives and advertisers impressed with the show's ratings. To me, however, the most touching aspect of the show is its plain proof that all men, straight or gay, yearn to be praised by a guy.

. . . .

Anybody with a father has learned how difficult it can sometimes be to get a man to pay attention to you. The subversive charge of "Queer Eye for the Straight Guy" may not be its homo/hetero get-together, but its demonstration that all men want contact with other men. Of course, you can learn the same thing from a hockey game.

Still, I think of the show's grooming guru, Kyan, asking his [straight guy] buddy Adam if anyone had ever taught him how to shave, and Adam's mumbled reply, "No, unh-unh, no."

In that moment, it seemed like five gay dads had been beamed down to planet Earth to give men what they really want: a father who's not afraid to pat your head and say, "Atta boy."

Oh John, we miss you. Now where's the new book, dad?
[image by Chris Gash, NYTimes]