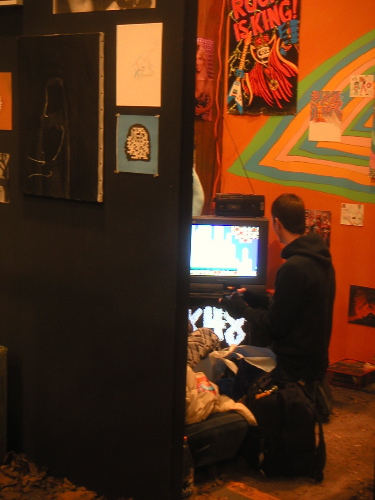 Scott Hug entertains in the game room



Scott Hug's wonderworld curatorial set, "Attack--The Kult K48 Klubhouse," originally scheduled to be struck yesterday, will remain in the Deitch Projects space in Williamsburg through Saturday. Yea!
He's done it again.
It's another incredible trip through a bold, irreverent new world of creativity which is still only barely understood even by scribes and gallerists who make emerging art their business.
Scott's created an incredible environment related in one way or another to the idea or practice of cults and Kults, and he and the other artists have divided it into microworlds, but the gods are also in the details of individual works. You'll need plenty of time, but you still won't be digesting it easily.
I can't begin to name favorites, since any list I would draw from this show would be totally arbitrary, if it didn't include every artist.
Only one small complaint: There's no checklist, although I'm not surprised, given the scale and complexity of the installation. Big compensation: You get to talk to Scott if you want to know more about individual works.
Don't miss the show no matter how you fit it in, but it's probably best to experience the Klubhouse twice, once while it's at rest, if it could ever appear to be at rest (afternoons), and once when it will be further amplified by partying and music this Wednesday and Thursday evening. Ask Scott for details, or see the Outlaw Series posting for Wednesday night's special amusements.
Hey, if B and I could wade through the slush and heavy rain in the dark yesterday, both of us with bad colds (with an East River crossing detour via the E and G trains because the L was down), there's no real excuse for other curious fanatics to deny themselves in better weather. We're definitely going to check back ourselves.
The venue is a garage at 110 North 1st Street, between Wythe and Berry, just a few blocks south and west of the Bedford Street L stop. "Normal" hours are 12 until 6.
Scott's newest issue of his sensational glossy zine, K48-4, is now available at the space on North 1st and everywhere good cultish literature can be found, like St. Mark's Book Store, Other Music, Mondo Kim's, Dia Center for the Arts, Printed Matter, alife, The New Museum, MOMA Design Store, See Hear and Isa.