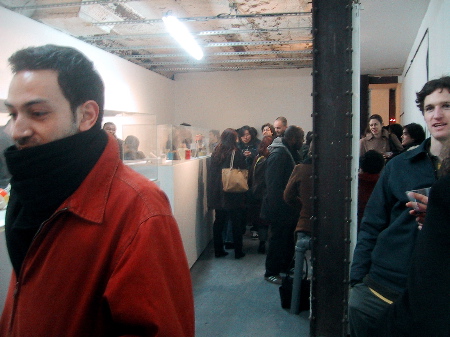 inside the Pernice show at Storefront, Anees bandited on the left
Last night we met our friend Anees at Storefront for Art and Architecture, for the opening of an exhibition, "Small Works, 1994-2004", by Manfred Pernice. Anees is an artist and architect, and Barry and I visit a lot of galleries, so we thought it would be a good ensemble.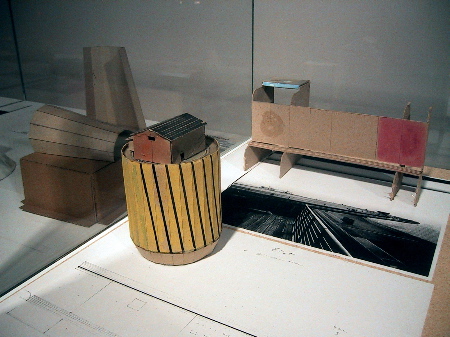 one of Pernice's assemblages
It was, thanks also to the interesting crowd, but above all thanks to the somewhat baffling content but intelligent aesthetic of the stuff in the vitrines, all resting on wonderful, slightly-eccentric-shaped plinths. The work was assembled from found materials (paper, tin, cardboard, tape, magazine cutouts) cut and pencil-marked, and generally resting on or beside some pseudo-instructive text or diagram, and everything seemed to be attached to the virtually untranslatable German word, "Verdosung". I'll hazard the English, "canned", or "boxed-up".
To learn more, maybe we'll have to get to Anton Kern Gallery, where another Pernice show, "COMMERZBANK", opened a week earlier.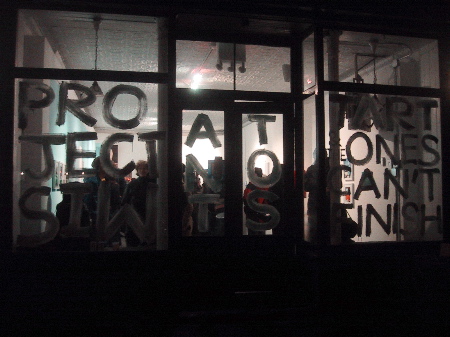 Riviera Gallery, still unidentified except for baby blue window paint spelling out the title of the show, "PROJECTS I WANT TO START & THE ONES I CAN'T FINISH"
Leaving Anees to his colleagues, and maybe some late study, we took the L to south Williamsburg where a relatively obscure, almost-new space, Riviera Gallery, was celebrating the opening of a small group show.
I was especially interested in the richly detailed paintings of Hyemi Cho and the enigmatic icons of Alex Lee.
Cho's work seemed to represent a personal odyssey through an alien world. Because they included work created over more than a half dozen years and because of their variety, all within an idiosyncratic style, the dozen or so wood panels would have represented a good mini-retrospective were they the work of an older artist. We met Hyemi last night and we were charmed, but that was after we had attached ourselves to the paintings.
Alex Lee showed work using cut-out magazine pages on which he carefully covered predictably beautiful faces of the [mostly] male fashion models with the flat baby blue paint used for the gallery's window text I mentioned in the caption above. Only their noses and the designer costumes they were selling remained. Each was beautifully enclosed by a pristine white, generic wood frame he had made himself. Do we ever ask what is really inside the pictures we admire? We've met Alex before, and last night he related an anecdote that reminded us that even the way we approach the simplest, most familiar of images is culturally determined. But it was probably a story from which the work we saw last night should stand independent. Maybe another time.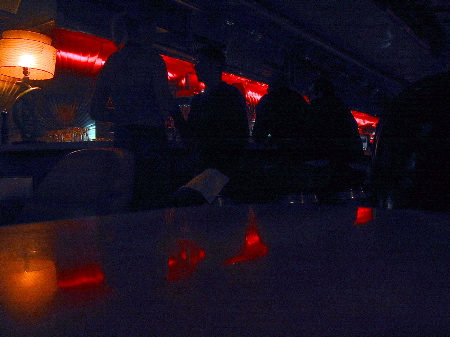 staff and guests smooze at Relish


We ended the evening by walking around the corner to go to dinner at our favorite Williamsburg boite, Relish. Minutes after we had arrived, crowds of people passed our corner booth heading for the back, the red room, where we never go. It very quickly became obvious that something was going on, and I finally hailed the hot waiter with the black outfit and studded belt who was regularly sneaking a peek into the room - even when he had nothing to carry into the room. In spite of the roar of that crowd and the music being played in our part of the diner, we had already begun to suspect that they were broadcasting "Queer Eye For the Straight Guy" [yeah, in Williamsburg]. The waiter leaned in to us and seemed to be shy about answering.
Actually, while it turned out that our suspicion about the broadcast was confirmed, what we thought might be sheepishess was just his fumbling to explain that this particular episode was featuring the hair salon on the corner, which was called simply, "PUBLIC" [very cool, and just next door to Riviera Gallery], and that the crowd in the back room was made up of stylists, clients, neighbors and those who loved them.
It's about fame.