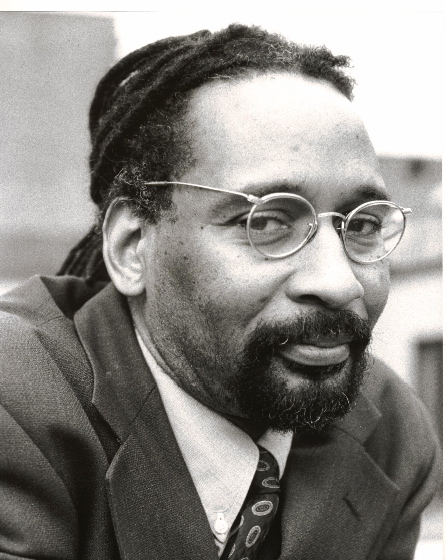 A beautiful man died yesterday.
Keith Cylar was the Co-Founder and Co-President of Housing Works, whose good people announced his death today. Keith had lived with HIV for over 20-years and was diagnosed with AIDS in 1989. In the last year, Keith developed cardiomyopathy, a serious enlargement of the heart. He died in his sleep early Monday morning of a cardioarythmia.
Fellow troublemaker and troublesolver Eric Sawyer reminds us of how much we have lost.
I remember when Charles King first brought Keith Cylar to a meeting of the Housing Committee. Keith had aready been coming to ACT UP - was working for the Minority AIDS Task Force in Harlem and was involved with the Minority (soon to become Majority) AIDS Action Committee.

Keith was this strong, tough as nails, sweet as sugar, fearless scared man child, angry at the loss of his former lover, fierce with rage against the do nothings in power; a handsome, sexy, powerful man - wise beyond his years - determined to help right the wrongs the world was doing to PWAs, to the poor, to the homeless, to the voiceless and to disenfranchised.

Keith was an out, proud, queer, black, positive brother when it was definitely not cool to be so in his community - a leader amongst men and a hero amongst warriors - Keith was my friend and I love him so.

Keith was able to kick back with a homeless person on a street corner, dance with a member of the Congress, break bread with a former Mayor, sip wine with a Cabinet Member and debate a member of the First Family with equal ease. He could also hold the hand of the dying and help them make peace with the Universe.

The world has a huge whole in it's soul now that Keith has left this plain.
[Keith Cylar and Charles King shared in the founding and administration of Housing Works, as partners in life and in activism]

UPDATED:
I looked everywhere last night for at least one great picture to include at the top of this post, but with no luck. I think it says a great deal about both Keith and Charles that they seem almost invisible; the work is big, the egos are not.
[April 10: I now have two images, thanks to Terri Smith-Caronia at Housing Works, one sitting at the top of this post and the second at the top of the the April 7 followup]