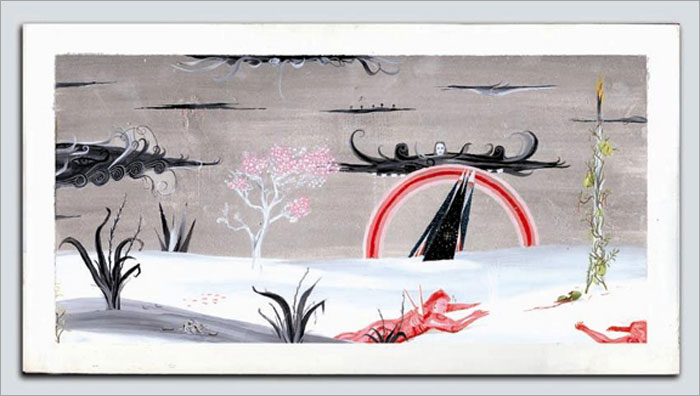 Eliezar Sonnenschein Emet (2003) acrylic on wood, 15.25" x 26.75"
Barry and I began the evening on Thursday [see the two posts below] with a stop at the opening of the invitational exhibition, "Sommer Show," at Lehman Maupin on this side of the East River.
We have eagerly visited the booth of this Israeli gallery, Sommer Contemporary Art, every year at the Armory Show, so we were very happy for the director, Irit Mayer-Sommer, when we saw the brilliance of what I believe is her first show in New York.
I thought Eliezer Sonnenschein's acrylic panels on wood were magnificent gems, but I'm certain that someone(s) with deeper pockets than mine will soon be carrying the three home. Sigh. They can't really be seen in something like the reproduction used above.
I also think a lot of Yehudit Sasportas's large ink marker drawings. Sharon Ya'ari's large black and white photgraphs of spaces vacated by the strange people they serve, inspired by minimalism, minimally presented, would stand out in any company. Rona Yefman's direct but sensitive color and black and white portraits are not easily forgotten.
All of it the work of excellent Israeli artists, this art would stand up in the crowd anywhere in our connected world, and its substance makes it especially clear that it wasn't created in a bell jar.
This beautifully-mounted show is extraordinarily welcome at this time in a city which really wants to believe in something other than the current, pervasive wave of fear and hatred incited by the small minds and empty hearts of the artless.
[image from Lehmann Maupin Gallery]