LFL was also crowded Friday night, for two openings, work by Simone Shubuck and Phoebe Washburn, but in this case an overflow crowd only intensified the impact of Washburn's enormous and quite magical installation in the front of the gallery's newly-enlarged space.
Two years ago LFL's smaller, original location on 26th Street was the site of Washburn's overwhelming (literally) first appearance with the gallery. Or was it rather that her installation was the site of the gallery for a few weeks?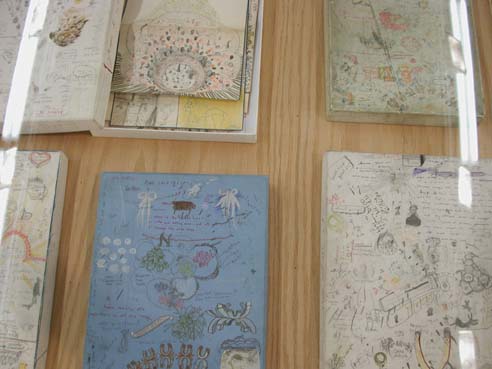 Simone Shubuck, vitrine installation view
I'll definitely be coming back for a better look at Shubuck's gorgeous drawings in the inside room. There, because of the size and energy of the very interesting crowd, there wasn't even space to snap a picture, but there are some images of her work on the gallery's site. She and all of us are far better served by the room itself, so you should go if you can, and you'll probably want more than a quick look.
Two wonderful shows.
[image of Shubuck's work from LFL Gallery]