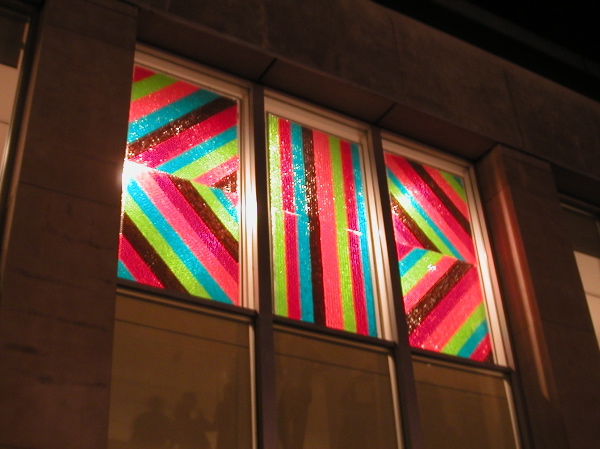 Troy Richards, This Light You Speak Of (2004) installation view of site-specific installation: Jolly-Ranchers, Plexiglas and resin 108" x 51" [QMA reception revelers faintly visible below]
We absolutely did get out to the Queens Museum of Art (QMA) last Sunday for the opening of the Queens International 2004. It was almost five when we got there, so we were pretty busy for the next hour. Most everyone in the very interesting crowd was pretty laid back, so we must have looked pretty intense as we made our way through galleries showing the art of some 50 or more Queens-based artists. Even so we managed to talk to a number of them while they hung out near their work.
There is nothing of the provinces, the "outer boroughs," about this show - except maybe for the incredible ethnic diversity of the artists included - a heterogeneity which frequently shows up even in the compound heritage of one individual. The name of the show, "Queens International," is a salute to that diversity. Any city in the country would be proud of the quality of the art represented. It's a first-rate show, a first-rate New York show.
Some of my favorites:
Haeri Yoo's wall of childlike drawings which almost mask her sophisticated humanism

Cui Fei's enormous, but so delicate, sculptural evocation of Chinese caligraphy employing grape vine tendrils

Chris Dorland's use of World's Fair pavilions to comment in his paintings on our utopian dreams - and follies

Aissa Deebi's photographic documentary of exile, using a shisha cafe in Astoria as his canvas

Matt Ducklo's sort-of-photojounalist suburban grotesques (especially the Kentucky shopping center/cemetary/mountain range combo)

Pascal Jalabert's heroic paper-tape bridges in electric colors

Kurt Lightner's magical mylar cut-out collages (and ink drawing)

Nava Lubelski's abstract canvases, which she stains and then adorns with needlepoint to almost electric effect

Troy Richards's bold candy windows (see above)

Earl Howard's sound sculpture installed in the Whitney-size elevator

Shin Il Kim's animated video whimsical profundities

Minshik shin's totally wonderful and sincere "American Dream" video
Because of the crowds and because of our limited time, we missed our chance to see most of the video art, so the list above is even more imperfect than usual.
[link to Haeri Yoo images was added June 6, 2005]