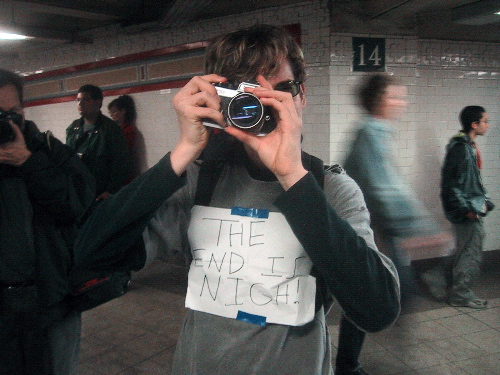 They're still trying!
Trying, that is, to outlaw photography in the New York transit system. Last June I wrote about a fantastic zap I had participated in called by "The Photographers Rights campaign." That same group has called another zap for December 18th in response to the MTA's continued ill-conceived intention to remove cameras from users of the system in the name of security.
Remember that token clerks have already been removed from many stations altogether, and more will eliminated in the future, ultimately abandoning the platforms to Metrocard machines and the public's own devices for ensuring their safety. There are also plans to ultimately remove conductors, and eventually drivers as well, from every train, removing all MTA employee presence from the public areas where millions of New Yorkers find themselves confined every day.
The removal of cameras will have precisely the opposite effect of security from terrorism. Anywhere else they call them "security cameras," for Pete's sake!
From the group's site:
Many of us are determined to not let this go by unnoticed and without protest; Join us, plan on taking your camera out for a day of photography that won't ever be forgotten, with a flash mob photo session that will even make the MTA board want to be there with cameras. It'll be one of those "Only in New York" things you've been hearing about...
Meet December 18th on the main concourse of Grand Central Terminal, and bring your photo apparatus of course. It shouldn't be hard to spot all the other people with cameras, especially with the even larger crowds expected this time.
Oh, yes, and this time let's wear signs. People should be able to see the point.
On a related note, the same officials who want a photo ban also want to make it impossible to move from one subway car to another. Think about that one the next time you read about someone going berserk inside a moving train.
Talk to or write your Councilmember about both these issues.
[image from my June 6, 2004, post]