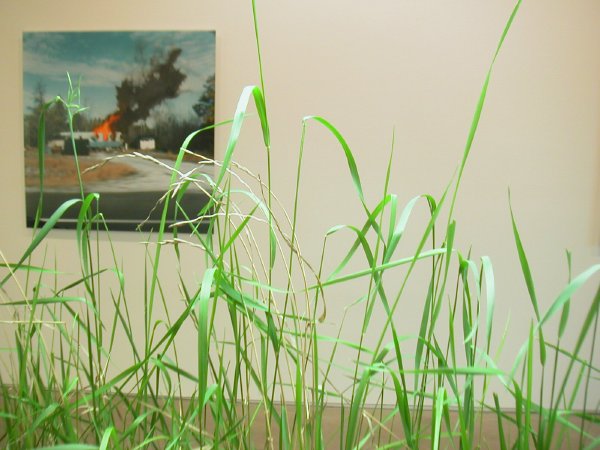 Rob Fisher installation view of Summery (Goodyear Ecology) in foreground, Unity Road No. 1-5 on the wall, both works in detail
Cohan and Leslie has another winner with Rob Fischer's current show [site not updated] of sculptures, painted photographs and paintings. Once engaged, it's hard to walk away from this space, the images and the entire environment are that compelling.
The very healthy-looking grasses shown in both images included here are a part of a stunning piece which, in the words of the press release, "makes 'the outside' suddenly containable." It includes
. . . a tire track cut across Fischer's yard accidently which has been excavated whole and installed in a metal tray.

. . .

Fisher's project [that is, the entire show] addresses and explores the tension between transience and memory and the specifics of site.

. . .

The photographs on view, painted C-prints shot by the artist from his car while driving through his native Minnesota, are images of abandoned trailers on fire from various viewpoints. This creates a cinematic yet disorienting effect when viewed from one to the other. The trailer, an American icon of a culture that is historically characterized by the desire to migrate and discover is seen in an indefinable state - partly present, partly destroyed.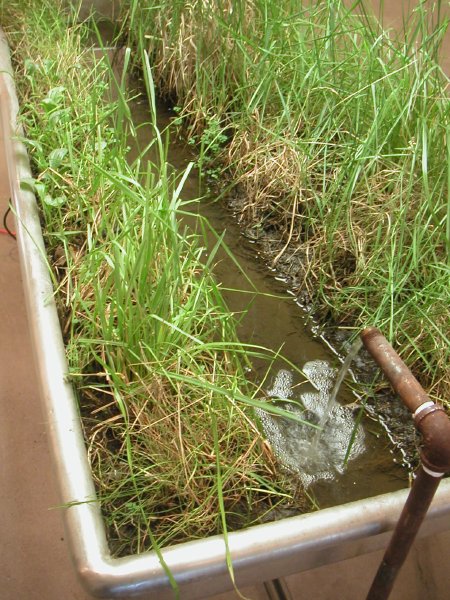 Rob Fischer Summery (Goodyear Ecology) 2004-05 tire track excavated from cultivated swamp, mixed media 32" x 71" x 30"
As I child I delighted in constructing new or re-imagining found miniature environments, so Summery totally charmed me on more than one level. I wanted to bring this one home. Barry suggested we could commission Eric Doeringer to do a "bootleg" work in a more convenient, apartment size. Hmmmm.
I kept expecting to see a tiny frog or guppy show up in the track, and the sight and gentle sound of water trickling from the pipe, if normally unnecessary to represent an ordinary puddle, was a delightful recognition of the requirements of the unnatural venue.
There is still much more, including a small warren of rooms constructed so that their interiors are less than two feet wide, each one separate from the other yet connected by a maze of water pipes. These spaces suggest domesticity, but with a built-in architecture of unease. New Yorkers will get it right away.