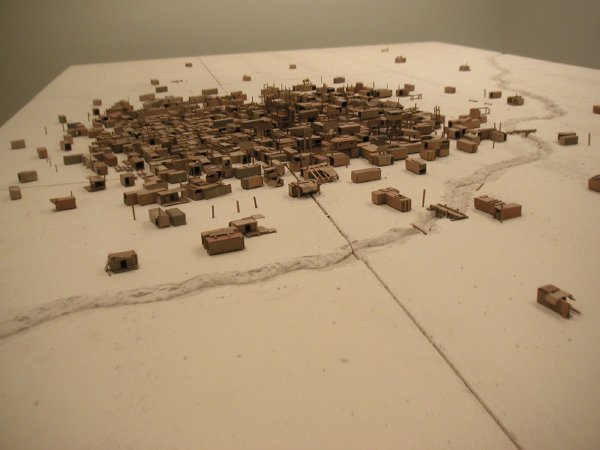 Michael Ashkin Adjnabistan 2005 recycled cardboard and gypsum 46" x 132" x 252" [large detail of installation]
Michael Ashkin's new large-scale piece, Adjnabistan, represents a significant departure from his handsome earlier work, which at least appeared to be about realism, even if it enclosed an angry conceptual core. The latest work, which almost entirely fills Andrea Rosen's project room, is both fundamentally and apparently conceptual, even if it retains enough of an element of realism to seduce the child in all of us.
From the press release:
"Adjnabistan" is the name of the anti-nationality I invented with a friend while traveling through the Middle East in the late 1970s. Derived from the Arabic "adjnabi" (meaning "foreigner," "stranger," or "other"), this land of impossible origin proved useful, especially in Iran, where, as an American, one needed to avoid treacherous political discussions. If said with the proper lightness of tone, "Adjnabistan" could provoke a smile or even be accepted without question. In any event, we could not be accused of lying or insincerity; in fact, the more I used this word over the months, the more I came to develop mental images of this shadow homeland. These images varied widely and, like a dream, spanned numerous geographies, but empathetically included aspects of the political and economic neglect evident in the landscapes through which we passed.

To illustrate the most extreme version of the schism between ideas and means, Ashkin imagined Adjnabistan as a community at the far end of exclusion, i.e., as a squatter/refugee/concentration camp built from used or abandoned shipping containers, situated in a fringe wasteland. The physical piece developed accordingly, with three forces asserting themselves: the inhabitants' hopes and aspirations, the social, political and economic constraints they encountered; and finally, the artist's own interests in developing a work of art. As the piece developed, fences were built, torn down and rebuilt. Watch towers became guard towers. Family compounds became prisons then perforated by fresh doorways. Structures too grandiose were dismantled and scavenged. The town underwent cycles of overflow and attrition. Populations thrived, perished or set themselves adrift in the surrounding desert.
Omigosh, I don't think there's ordinarily a connection between the two rooms, but I just realized the brilliance of a decision which brings together Ashkin and
Andrea Zittel
, who is showing work in the gallery's main space, part of the latter's continuing real and conceptual explorations of "the limitations of living space."