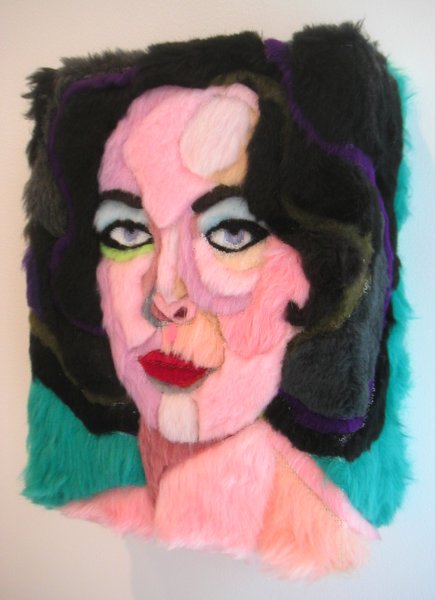 Jeff Hand Liz (on Box) 2003 faux fur on board 10" x 8" x 3.5" [installation view of a three-dimensional piece]
Plus Ultra's summer group show absolutely refuses to succumb to the languor of the season by offering lighter fare, and the work manages to survive an assault of light and heat which can easily frustrate less survigrous work.
I'm being a bit dishonest in illustrating this post with a Jeff Hand piece which is not included in the show itself, the larger and equally wonderful Parasol (after Goya). But I saw Liz in the rear of the gallery and it got to me in spite of my relative indifference to the icon represented by the icon. I thought it needed more exposure (I mean the faux-fur one).
I managed to get a few snaps of pieces which actually are in the show, and while I'm including them below this text they certainly do not represent the limits of its fascinations. The complete catalog includes Nancy Baker, Leslie Brack, Amanda Church, Jennifer Dalton, Nicholas Gaffney, Kate Gilmore, Joe Fig, Rosemarie Fiore, Jeff Hand, Christopher Johnson, Alois Kronschläger, Thomas Lendvai, Max-Carlos Martinez, Analia Segal, and Andy Yoder.
Oh yes, the title of this great tease of an exhibition is "The expression of elemental passions... (or, damn everything but the circus), so there's the summer part after all.

Joe Fig Joe Namuth's Pollock #8 2004-2005 polymer clay, plexiglass, wood, oil, enamyl and acrylic paints 12.5" x 12.5" x 12"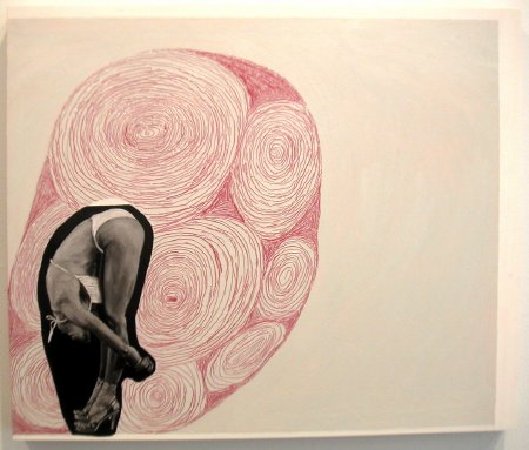 Leslie Brack L.B. 2003 oil on panel 19" x 22.5"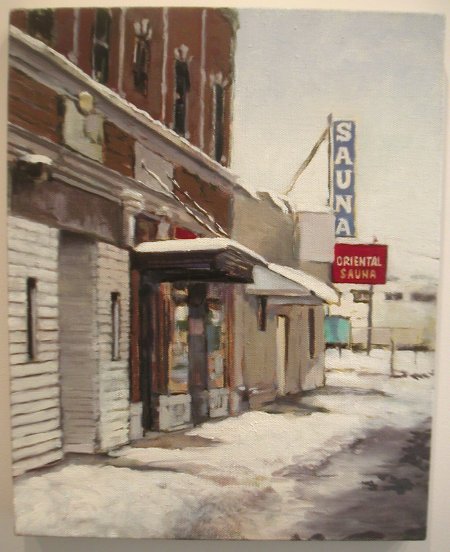 Christopher Johnson Oriental Sauna / Warren, Ohio 2005 oil on linen 20" x 16"