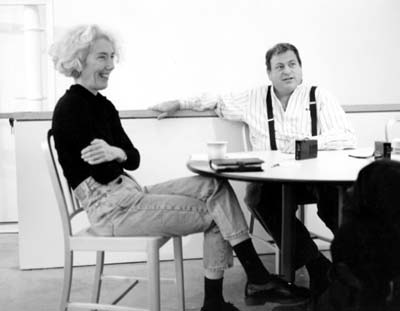 with Elizabeth Murray
Bill Bartman died this morning
An often messy, quirky, ornery bastard, but otherwise (and often at the same time) great company and a great friend with a great heart, Bill Bartman was also a selfless, totally-committed patron of the arts and an enemy of the morally and spiritually-dead who currently control the larger American public landscape and dialogue.
A dogged defender of women in the arts, an enemy of elitist institutions of any kind, but especially those which seek to prevent easy access to literature and the visual arts, Bill never lost touch with the smaller lives around him: He was unapologetic about his exuberant affection for kids and animals; I've watched him read to both.
Bill worked tirelessly to get books, especially art books, into the hands of people who did not have them, including many who would know they wanted them only once they became his beneficiaries.
His gallery space survived until the money finally ran out (including much of his own capital, and the gradual de-accessioning of his own art collection) and throughout those years Bill refused to compromise his principle that the artist was the real curator, and the artist must not have to share the receipts of any sales.
Bill Bartman died this morning after a truly heroic struggle with the multiple fiends which had been assaulting his body for years. Most of his friends have been so impressed with his awesome survival story that this latest news will be no less a shock than a report that he had been run over by a truck. He was a great soul.
Gosh, we're going to miss him.

William S. Bartman was the founder and continuing head of Art Resources Transfer, Inc., A.R.T. Press and the Distribution to Underserved Communities (DUC) Library Program
UPDATE: There will be a memorial for Bill Bartman at 2 pm on Saturday, November 5, at the Society of Friends Meeting House off Stuyvesant Square, and everyone is welcome. There will be cookies
[image by Bill Zules from A.R.T. Press]