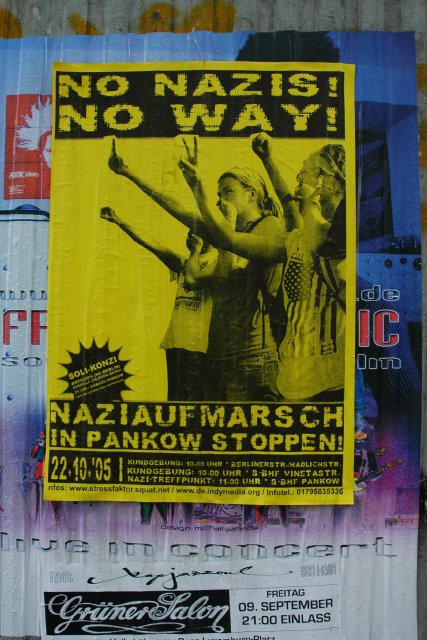 We're staying on Rosa Luxemburg-Platz, only steps from the national headquarters of the PDS, or rather of its successor, Die Linke. I've worn my very red button every time I've gone out, and it seems it escapes the attention of almost no one here. [in the U.S. I sometimes think it's invisible]
Anyway, a few days ago an open-faced youth stopped us a hundred meters from our door to ask if we knew where the PDS office was. I was silly-proud to point him in the right direction, and it was near their building that I spotted this poster this morning.
This is a very political people and they will not be deceived this time. It's my own country that I'm very worried about.
FOLLOWUP: It happened. Everybody marched. No one was hurt. There were eggs thrown (by the anti-antis). The counter-demonstrators outnumbered the neo-nazis three to one. The police outnumbered both. There were ten arrests however, none of them of partisans from the extremist right.