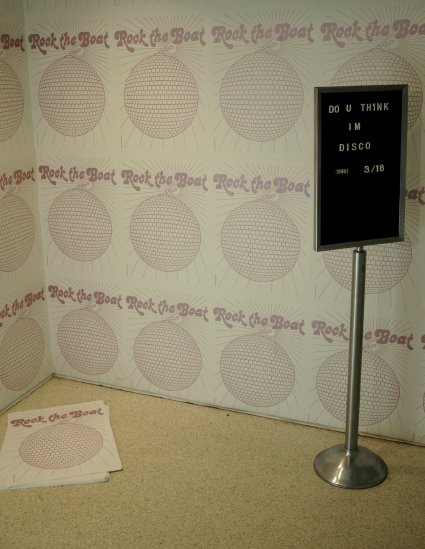 [the view inside the entrance to the show, with Carrie Moyer's 2005 "Rock the Boat" silkscreen installed on the wall]
We visited a show at the Longwood Arts Project at Hostos this afternoon, just in time to tell about it before it closes on Saturday.
Because of the name, "Do You Think I'm Disco", I expected it would be interesting and a lot of fun, but I wasn't prepared for the quality of the work.
The exhibition, curated by the gallery's director, Edwin Ramoran, is described as the first survey of its kind to focus on the impact of the dance music culture of the 70's on contemporary art. To be honest, thirty years ago I was totally distracted by the ecstatic dancing, the drugs and the sex. It was all very, very good. Somehow I missed the art.
I got another chance today, to at least see what the culture had wrought, and anyone else who can make it to the Grand Concourse in the next couple of days can do the same. I really recommend stopping in. I want to upload some more images in the next day or so, but since the show is about to end I wanted to get the word out tonight.
By the time I got to The Bronx I had forgotten what the list of artists had looked like when we first heard about the show weeks ago. I really respect the fact that the art comes from older artists with a reputation and the very young and unexhibited, but most of the conversation inside the gallery was dominated by the generation in the middle. Only because Barry and I get around so much were we able to recognize a good number of them, but interestingly almost none of the works themselves were familiar.
Holland Cotter reviewed the installation early in February. An excerpt:
On the subject of gender, Larissa Bates, Christian Marclay, Edwina White, Megan Whitmarsh and the team of Jayson Keeling and Kalup Linzy have intriguingly varied things to say. And if queer culture is the show's lingua franca, it takes many forms, with references to erotica (paintings by Boris Torres); H.I.V. and AIDS (a fine film by Derek Jackson and a conceptual piece by Iván Monforte that offers free H.I.V.-testing at the gallery); and spirituality.

This last element finds a voice in one of the exhibition highlights, Mr. Monforte's short film titled ''And I'm Telling You,'' in which a terrific gay gospel singer, Marcellus Ari, delivers an a cappella rendition of a love song from ''Dreamgirls.'' Written to be sung by a woman to a man, the song is almost absurdly passionate; it leaves Mr. Ari vocally and emotionally exposed. And when he's finished, he seems momentarily dazed as if pondering what he has just done.
A couple of teasers: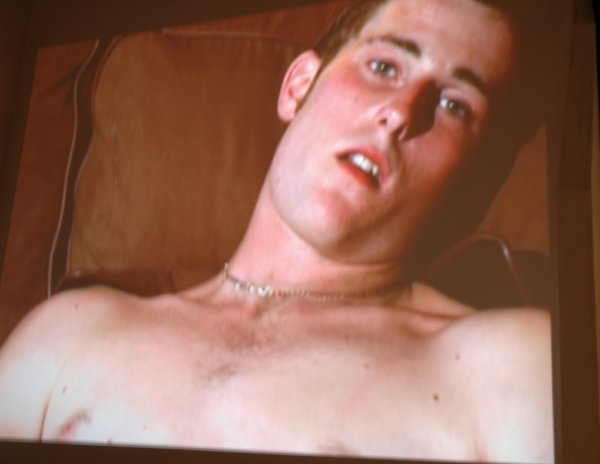 Phil Collins The louder you scream, the faster we go 2005 video [still from video installation]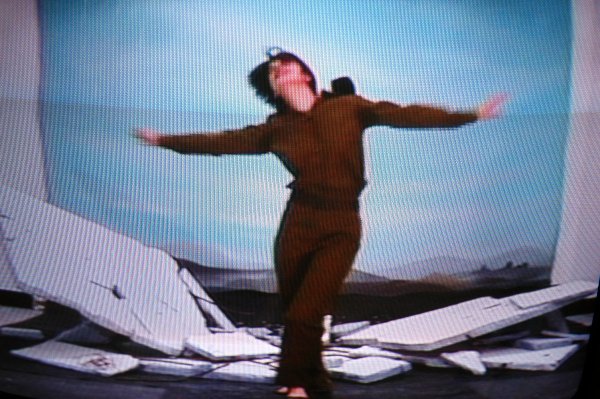 Shirley Wegner Soldier Dancing on Ruins 2005 DVD [still from video installation]