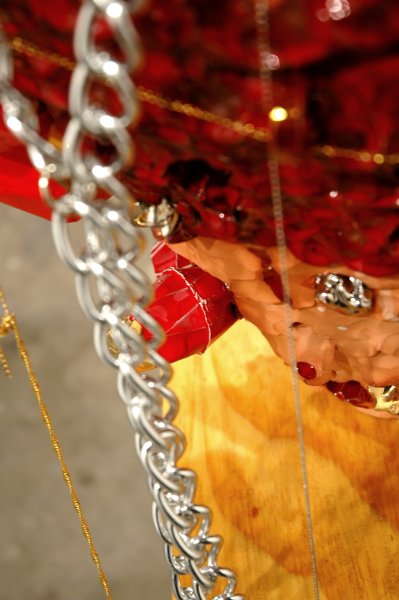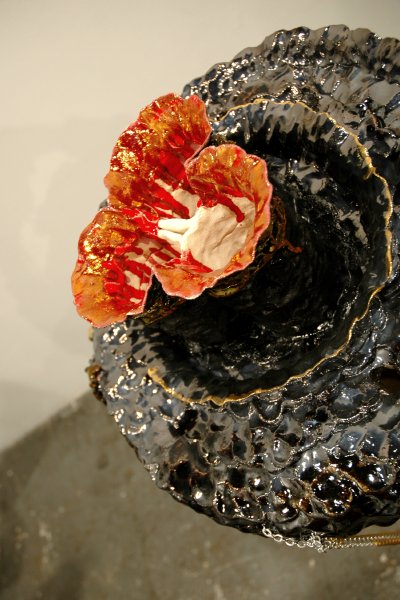 Nicole Cherubini [details of three pots included in installation]
I can't promise to upload a big bunch of pictures for just any gallery which happens to have none on its own site, but this is a very special circumstance. I'm very fond both of Nicole Cherubini's sculpture and the wonderful work always to be found at Klemens Gasser & Tanja Grunert, but the happy combination, as seen in last night's opening, is sensational.
Cherubini has re-invented pottery, making it finally (again?) indisputably safe for art. This is very serious sculpture but with a fundamental good humor which, for anyone who experiences its beauty, can be as forward or latent as needed.
I have no list of the individual pieces, so the images I'm showing will have to go undoumented, at least for now. I doubt these strong, glorious pots will mind that one bit.
Here are portraits of three of the nine pots:


Nicole Cherubini G-Pot with Rocks 2006 ceramic, fake gold and silver jewelry, chain, white feathers, luster, white ice, marble, wood, blue foam, targel, approx. 16" x 16" x 41" [installation view]

Nicole Cherubini G-Pot, Black Vanitas 2006 ceramic, fake gold and silver jewelry, chain, luster, enamel, plywood, walnut stain, blue foam and acrylic gel, approx. 16.5" x 12" x 61" [installation view]


Nicole Cherubini G-Pot, Vanitas #3 2006 ceramic, terracotta, luster, yellow and crystal ice, fake gold and silver jewelry, chain, purple rabbit fur, plywood, polyurethane, enamel and red plexi-glass, approx. 33.5 x 21" x 64.5" [installation view]
And finally, three more images of the red pot shown immediately above and at the very top of this post: