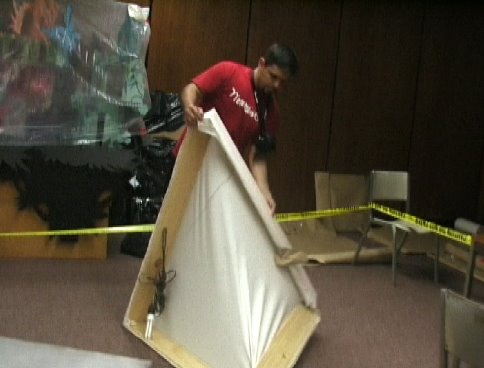 going through the debris
Eighteen Brooklyn College MFA students were not only dispossessed of a graduate thesis exhibition when the New York City shut it down and padlocked the doors in downtown Brooklyn. On Saturday, five days after their school itself had precipitously, foolishly and cowardly removed all of their art from the gallery, hauled it away in open trucks and dumped it back on the campus, they were permitted to enter the hall where it had been unceremoniously dropped by campus workmen.
There they discovered that much of the art, the product of months of work and the focus and culmination of their graduate studies, was missing and a good percentage of the work that was there had been damaged or destroyed irreparably.
This is a large excerpt from the press release which appears on the students' site:
At 9am yesterday [Saturday, May 13] students arrived at Roosevelt Hall on the Brooklyn College campus prepared to inspect their work together. The students were surprised to find that Mr. Little had ordered the officers to allow students access only one at a time. This caused the process to last until 6pm yesterday afternoon.

Under the supervision of Brooklyn College CUNY security officers and with the aid of Graduate Deputy Karen Giusti, students found their work improperly packaged in garbage bags, much of it irreparably damaged and some pieces missing.

Carrie Fucile, who built a 7' x 8' x 10' wooden house as part of an installation, could find barely a trace of the large structure among the two rooms in which the work was stowed. A few pieces of the dismantled installation were used as packaging for other works of art, others were later located out by the loading dock for raw materials and trash.

Marni Kotak could not find over 10 original drawings, the video documentation of her live performance at the show opening, and most of the elements of her 10' x 20' site-specific installation. She found two chalkboard drawings irreparably destroyed. Tamas Veszi could not find his entire site-specific installation, and could only find two damaged paintings and three destroyed sculptures. Neither Fucile, Kotak nor Veszi were allowed to adequately document their site-specific works prior to their demolition.

Augusto Marin's large folding chair and wall sculpture and Yejin Jun's foam and pins sculpture were found in pieces, and the work of John Aveluto, Megan Piontkowski, Susan Dessel, Carla Aspenberg, Pamela Gordon, and other artists suffered damages. Most of the approximately $20,000 worth of digital equipment utilized for the exhibition was found jumbled together in large boxes or trash bags without the proper carrying cases. Several artists also reported missing personal items such as a video camera, DVD players, and original personal documents.
I know that at least one of the students has very recently removed all his work and materials from his Brookly College studio, "because the school is starting to scare me".
This college is sounding more and more like the school from hell. Anyone who has an interest in exorcising its demons should get involved before the damage becomes irreversible. An academic institution cannot survive on a formal accreditation certificate alone, and when enough incompetence is involved, even a valuable piece of paper can be lost.
There are additional pictures on the Plan C site.
[image, which I believe is of Augusto Marin looking at his work, from Plan C]