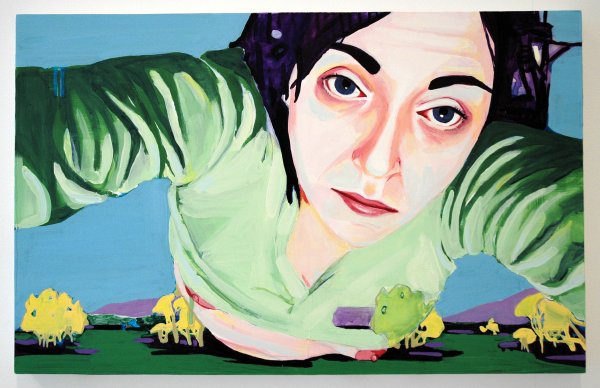 Jenny Laden Airborne 2006 oil on panel 14" x 22" [view of installation]
On what was thus far one of the hottest days of the summer, any show with the tag "Flight Plan" would be welcome. The work installed at Morgan Lehman this month doesn't disappoint the visitor looking for distraction and relief, even if the only real soaring experienced is that of the spirit.
The artists included are Brook Caballero, Dana Carlson, Orly Cogan, Sean Cavanaugh, Kirsten Deirup, Franklin Evans, Philip Knoll, Jenny Laden, Dona Lief, Jeffrey Milstein, Amy Ross, and Paul Villinski.
My capture of Laden's painting was pretty successful, but I obviously couldn't include images of all the pieces here, even those that pleased me the most. Under the circumstances then I suppose it's a little perverse of me to upload a peek at two works on paper which are not in this show but which were created by an artist who has two other drawings that are.
My image of one of the framed drawings, Franklin Evans's "FFnineplayers", didn't make the cut mostly because of my technical error with the camera. Like much of the art in this show however his delicate, condensed, heavily-worked and textured paper works must be seen in person to be appreciated. Before we left Barry and I were invited to look at two of his drawings just before they were wrapped for transport to the gallery's Lakeville, Connecticut location where a small group show opens August 12.
This is what I saw on the table in the back of the gallery on 10th Avenue on Wednesday: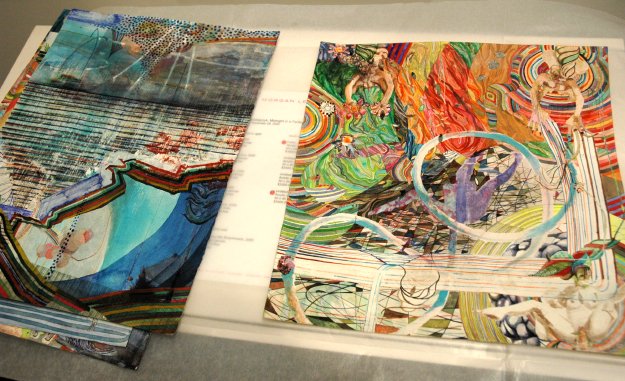 [a large detail of each of two works on paper by Franklin Evans]
ADDENDUM: Evans is curating a show at Moti Hasson, "Twist it Twice", which opens tomorrow.