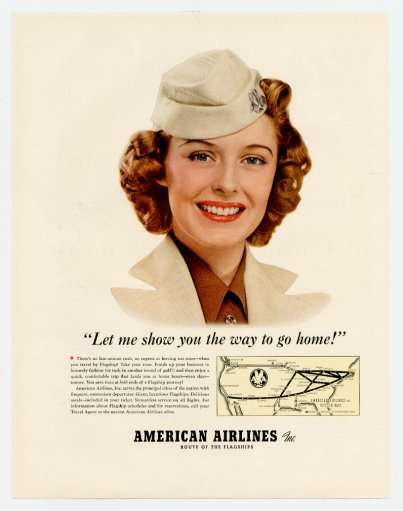 SEE AN UPDATE IN THIS SEPTEMBER 26 POST: "the American Airlines homo scare: even worse than reported"
Shortly after takeoff, Varnier nodded off, leaning his head on Tsikhiseli. A stewardess came over to their row. "The purser wants you to stop that," she said.

"I opened my eyes and was, like, 'Stop what?' " Varnier recalled the other day.

"The touching and the kissing," the stewardess said, before walking away.
This isn't fiction; It's right
there
in print, in "The Talk of the Town" section of
The
New
Yorker
. The two people told to cut the show of affection while on a transatlantic flight one month ago were two gay men.
They asked to speak to the purser, who denied instructing the stewardess to tell the men anything. She admitted there was nothing inappropriate about the behavior they described and while she initially seemed to be supportive she ended the discussion by announcing that kissing was improper behavior on an airplane. She then said she was busy with meal service and left, promising to come back afterward.
Half an hour later, the purser returned, this time saying that some passengers had complained about Tsikhiseli and Varnier's behavior earlier. The men asked more questions. Who had complained? (She couldn't say.) Could they have the stewardess's name, or employee number? (No.) Would the purser arrange for an American Airlines representative to meet them upon landing at J.F.K.? (Not possible.) Finally, the purser said that if they didn't drop the matter the flight would be diverted.

After that, [a passenger whom we know who was seated behind the couple] said, "everyone shut up for a while. "Maybe an hour later, the purser approached Tsikhiseli and said that the captain wanted to talk to him. Tsikhiseli went up to the galley and gave the captain his business card. The captain told Tsikhiseli that if they didn't stop arguing with the crew he would indeed divert the plane. "I want you to go back to your seat and behave the rest of the flight, and we'll see you in New York," he said. Tsikhiseli returned to coach.
This is just one of the reasons why Barry and I are thinking about leaving the country. Such an assault may be worthy of a few paragraphs in a sophisticated New York magazine, on the basis of its outrageousness, but this sort of thing - and much worse - is still taking place all over the country, even on and above international waters. I just don't think there's a future in this country for people who think, even if they're careful to kiss the people they're supposed to kiss.
It's not only about queer terrorists.
[image from Women in Uniform]