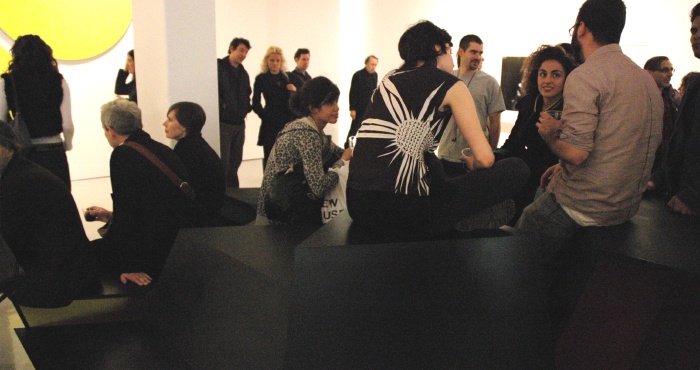 conversation pit [opening crowd enjoying Vito Acconci's hexagon of trapezoidal seats, with the artist standing in the center background, a detail of Olivier Mosset's 2003 untitled triptych to the left rear]
D'Amelio Terras opened two very interesting shows on Saturday, a group show of works by Vito Acconci, John M Armleder, Olivier Mosset, Chuck Nanney, Steven Parrino and Sam Samore with the intriguing title, "The loss of history makes them constantly curious and continuously horny....", and an exquisite exhibition of Dike Blair paintings.
Even without the help of the 1995 structure whose parameters and inspiration is outlined in the gallery's press release the work in the larger space looks absolutely stunning.
In the smaller room at the front of the gallery there are some beautiful small gouache-and-pencil works by Blair from the late 80's and early 90's.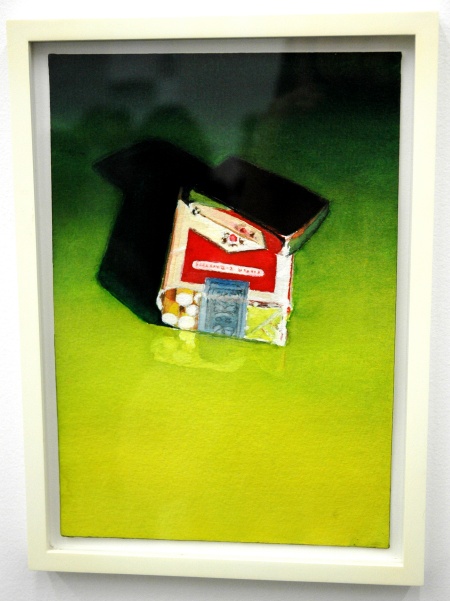 Dike Blair Untitled 1995 10" x 7" [installation view, with reflection]