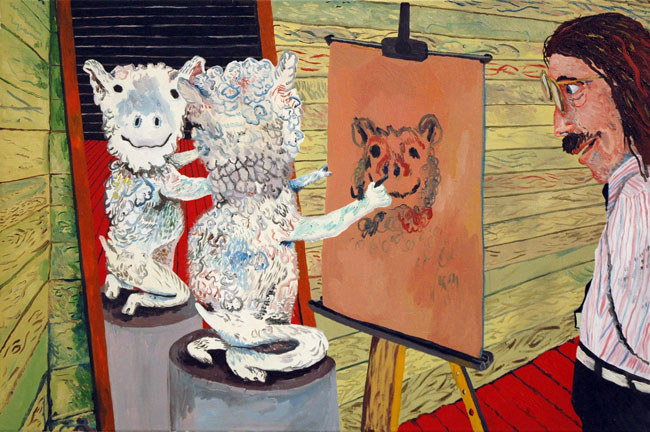 Michael Williams At Mr. McCook's 2006 oil on canvas 24" x 36" [installation view]
I think we surprised ourselves today by actually buying something we'd seen in the oh-so-fabled Armory Show. It doesn't mean we had money to burn, but it does mean we decided we couldn't live without parting with cash we would only end up spending on something much less satisfying.
It may sound weird, but when we told ourselves we wanted this piece we knew almost nothing about the artist except that he seemed to have the confidence (the imprimatur?) of a gallery we really think a lot of. When we saw this work at CANADA yesterday we were both strictly in blogger mode, having been given access to the press and VIP preview as members of, yes, the press. Neither of us was thinking in terms of acquisitions and we had no idea what it might cost. We'd also slowed our buying activity almost to a halt, for a number of reasons, but last night I just couldn't get this one painting out of my head and today I called the gallery to see if we could afford to adopt "At Mr. McCook's". All I will say is that for a while we're going to have to eat at home more often, now joined by Mr. McCook, and that's fine with us.
Barry and I have gained the joy of living with a wonderful painting, and one of our favorite galleries and one of their newest artist friends gets some help with the rent, and not incidentally a bit of the means for giving others joy.