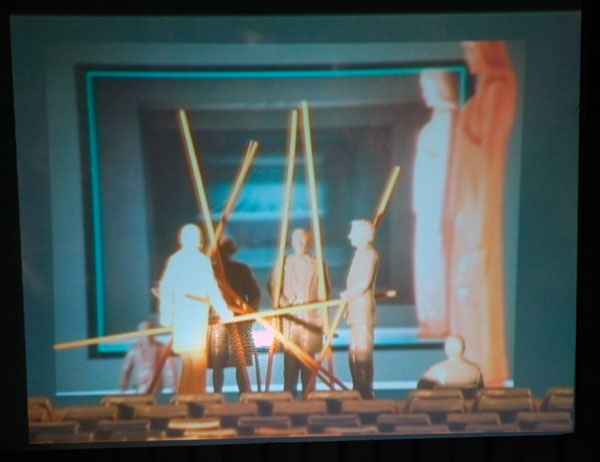 Tommy Hartung A Short History of the Canon video [still from installation]
Thinkers, breeders and slaves were assembled on 24th Street this past week inside one of the video projection containers set up by the Digital & Video Art Fair [DIVA], one of our favorite destinations since its first appearance in 2005. The fair itself has always been located further downtown, inside the Embassy Suites Hotel, just west of the World Trade Center.
The class cast described above inhabits a video by Tommy Hartung who builds small sets from the detritus of a world either on the make or disintegrating as we breathe. His stunning and provocative six-minute work, "A Short History of the Canon", is a tour de force. The artist has recently been associated with an increasingly-impressive gallery Moti Hasson, and was represented by both a video and a large sculpture in the exciting show (just ended) which inaugurated the gallery's new space on 25th Street. That exhibition was curated by co-directors Candice Madey and Tairone Bastien.